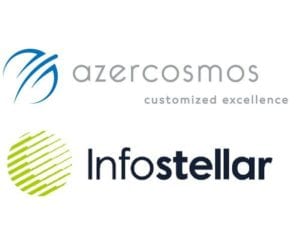 Azerbaijani satellite operator Azercosmos and Infostellar, the Japanese Ground Segment as a Service provider, signed an agreement to enable Infostellar customers access to their satellite constellations from the Azercosmos Ground Station (AGS), located in the Absheron peninsula. The agreement was announced on 6 February 2020.
AGS' location is uniquely positioned between Europe and Asia. As a universal ground station, it provides satellite operators with secure, highly reliable services, enabling a real-time transmission environment for satellites in low earth orbit. It has the capacity to provide on-demand and continuous services to all global satellite operators.
The station consists of a 5.5m S/X-Band antenna system and a compact network infrastructure. Its IP connection to two backbone optical lines provides network resilience and redundancy.
"We feel very happy about having a Japanese space communications infrastructure company Infostellar among our partners," said Azercosmos CEO and chairman Rashad Nabiyev. "It is of great importance for us to provide high, secure, and reliable services to our customers together with such a young, energized and, most importantly, a professional team."
"Azercosmos is the only satellite operator in the Caucasus, and its Ground Station is located in a very strategic position, in the spot where East meets West. That is why integrating the StellarStation platform with the Ground Station will create an excellent condition for organizations to get secure access to the satellites that pass over our coverage area," Nabiyev added.
"It is important to have a ground station in the right location for delivering satellite remote sensing images at the right time," said Naomi Kurahara, CEO of Infostellar. "Azercosmos' ground station is located in a unique position, which with our platform, will allow satellite operators to design and deploy a strategic ground station network for their satellite data intelligence service. We are very happy to improve the coverage of our platform together with Azercosmos' professional, reliable ground station team."
Azerspace-1, the telecommunication satellite operated by Azercosmos, provides highly reliable broadband and broadcast solutions to its customers in Europe, Africa, Middle East, the Caucasus, and Central Asia. Infostellar, headquartered in Tokyo, is a Ground Segment as a Service (GSaaS) provider. StellarStation is a flexible, scalable ground station aggregator for new space satellite services.