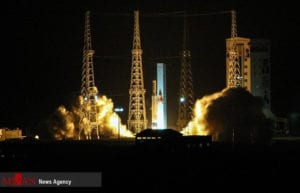 The latest attempt by Iran to indigenously launch one of its domestically-built satellites has failed, the latest in a string of unsuccessful satellite launches due to engineering problems, poor management, sabotage, or a combination of all of these.
The Zafar-1 Earth observation satellite, built by the Amir Kabir Technical University in Tehran, was supposed to have been launched into low-Earth orbit (LEO) on board an Iranian three-stage Simorgh (Farsi for Phoenix) satellite launch vehicle that lifted off from the Imam Khomeini Space Centre in central Iran at 7:15pm local time (3:45pm Greenwich Mean Time) late on 9 February 2020.
According to the Iranian defence ministry, the Simorgh launcher took the Zafar-1 satellite "ninety percent of the way" to its intended altitude of 540 kilometres in LEO.
Ahmad Hosseini from the Iranian defence ministry's space unit told reporters that, "the Simorgh (rocket) successfully propelled the Zafar satellite into space. Unfortunately, in the final moments the carrier did not reach the required speed," to put Zafar in its intended orbit.
"God willing with improvements made in future launches this part of the mission will be done as well. We achieved most of the goals we had and data has been acquired, and in the near future, by analysing the data, we will take the next steps," Hosseini added.
Iran's Minister of Communications and Information Technology, Mohammad Javad Azari Jahromi, Tweeted in English as soon as the news of the failed launch broke, and was defiant in his message comparing the failure to put the Zafar satellite into orbit with over 60 years of assorted satellite launch failures in the United States.
"Today "Zafar" satellite launch failed. Like many scientific projects, Failure happened. FALCON 9, Juno II, ATLAS, PROTON M, ANTARES are just few samples of US launch failures. But We're UNSTOPPABLE! We have more Upcoming Great Iranian Satellites!" @azarijahromi, 21:19, 09 February 2020
Three Failures In A Row
Satellite launch is, of course, always a risky venture for any country or company attempting it, but Iran has to contend with the fact that this latest attempted Simorgh satellite launch is the third failure in a row in as many years.
Speculation regarding the reasons for this failure rate range from engineering problems resulting from challenges in sourcing the required components and materials to build the satellites and launch vehicles to required standards due to international sanctions; a poor management and systems engineering culture that tolerates corruption and values regime loyalty and obedience over technical competence and professionalism; and allegations that countries like the United States and Israel, among others, are engaged in systematic sabotage operations against the Iranian satellite launch and ballistic missile programme. There is also reason to assume that Iran's lack of success could be due to a combination of all of the above.
Zafar Satellites
The Zafar-1 satellite is one of two that have been built in Iran. Zafar-1 and -2 are microsatellites designed to take high-resolution optical imagery of locations around the world. A ground resolution of 22.5 metres has been reported, although some sources are claiming that the ground resolution is more like 80 metres.
"Preparing map of lands, basic map, civil development map, agricultural fields map, map on changes in lands natural environment and jungles, monitoring developments in seasonal and perpetual lakes, identifying damaged areas after the crisis and upgrading structural maps are among missions of the satellite," the Iranian news agency IRNA has stated.
Confusion in the international media regarding the function of the Zafar-1 and -2 Earth observation satellites likely stems from the fact that they also feature a basic communications payload capable of broadcasting single messages between two users, or sending a single message up to a total of 256 users.
The satellite is reportedly equipped with colour cameras for surveying oil reserves, mines, jungles and natural disasters.
Iranian Rocket Engine Developments
Prior to the failed Zafar-1 satellite launch on 9 February 2020, Iranian officials unveiled that it has developed a new generation of rocket engines made of composite materials instead of steel. The Zoheir and Salman engines will make Iranian missiles  "cheaper, lighter, faster and more precise," according to Major General Hossein Salami, commander of the Islamic Revolutionary Guard Corps (IRGC), in comments to Iranian reporters earlier that day.
The Salman engine in particular was highlighted as it is reported to have a moveable nozzle that, according to Major General Salami, will provide "manoeuvrability beyond the atmosphere" and marks a "leap in modern missile technology" for Iran.
"The complicated achievements on the bleeding edge of global technology that were unveiled today are our key to entering space," Major General Salami added