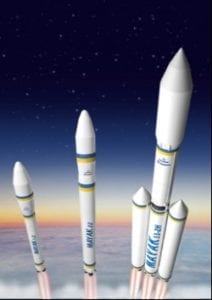 Ukrainian and Russian press are reporting that Ukrainian aerospace giant and design office Yuzhnoye is planning to build four variants of its Mayak heavy lift space launch vehicle, subject to Western investment.
The four variants are the Mayak SH-3, capable of lofting 59 tonne payloads to low-Earth orbit (LEO); Mayak SH-5, capable of launching 93 tonnes to LEO; Mayak SH-6, capable of placing 109 tonnes in LEO; and Mayak SH-7, capable of lifting 129 tonnes into LEO. Each Mayak variant number indicates the number of boosters on the first stage.
The State Space Agency of Ukraine is reportedly seeking investors for the Mayak SLV programme in Canada and the United States, and Yuzhnoye is reportedly conducting advanced research and development work on the project. If investors can be found the Mayak SLV's would be manufactured in Ukraine by rocket and missile manufacturer Yuzhmash. Press reports suggest that Yuzhnoye is looking to position Mayak launch vehicles in an already crowded launch market for Lunar and Mars missions, as well as placing infrastructure such as space stations in Earth orbit.
While the Yuzhnoye thinking behind its Mayak business case is hard to discern from regional press reports, one calculation could be to offer a heavy lift capability to the international market that is not under Russian control or dependent upon Russian supply chains and technologies, but does build upon Ukraine's prestigious launch vehicle design, technology, and manufacturing heritage.
Still, the proposed applications for the Mayak SLV's appear to be speculative, as large space exploration programmes such as the U.S. Artemis programme may have broad political and public support but face uncertain funding over the coming years. Prospective investors will likely be looking for reassurances that there is a plausible and substantive launch demand as a return on their investment.
Mayak (Russian for 'beacon' or 'lighthouse') has been on Yuzhnoye's design tables for at least 15 years, builds upon the design, engineering, and manufacturing heritage of the Zenit and Tsyklon SLV's built in Ukraine, and will use Ukrainian engines if the programme receives its hoped-for funding.