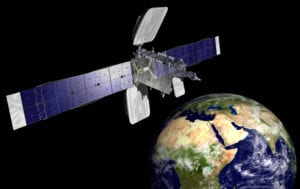 Azercosmos, Turkey's leading digital broadcasting platform Digiturk, and mobile phone operator Vodafone signed cooperation agreements on 27 December 2019. Under the agreements, Digiturk will broadcast championship football games in Turkey using capacity on the Azerspace-1 communications satellite. For its part, Vodafone will use Azerspace-1 to provide mobile data services throughout Turkey.
Following the cooperation between Turkcell and Azercosmos in 2019, the agreements signed with Digiturk and Vodafone are seen as an endorsement of Azerbaijan's two communication satellites across the Caucasus and Turkish region.
Azercosmos is the premier satellite operator in the South Caucasus. Azerspace-1, the telecommunication satellite operated by Azercosmos, provides highly-reliable broadband and broadcast solutions to its customers in Europe, Africa, Middle East, the Caucasus, and Central Asia. The satellite was launched in February 2013 and is equipped with 24 C-band transponders and 12 Ku-band transponders and is located at 46° East longitude.  In December 2014, Azercosmos took over the rights to operate and commercialize Azersky, a high resolution (1.5m imagery products) optical Earth observation satellite and entered into the commercial business of Earth observation services, including Geo-Information services. The strategic development plans of the company included enhancing the coverage area and spectrum of satellite services. For this purpose, in 2018, Azercosmos launched its second telecommunications satellite Azerspace-2 in a geostationary orbit 45° East longitude.
Digiturk is a Turkish satellite television provider founded in 1999, and started its broadcasting services in 2000. Digiturk provides both national television and radio channels and music streaming services. Digiturk is also the current owner of the broadcasting rights for the Turkish Super League. In addition to broadcasting throughout Turkey, Digiturk offers its television services throughout Europe, mainly for the Turkish diaspora and has reportedly 3.5 million subscribers worldwide. Qatar-based beIN Media Group acquired Digiturk in July 2015.
Vodafone Türkiye is the Turkish subsidiary of British mobile telephone operator Vodafone, one of the largest mobile phone operators in Europe and Africa.