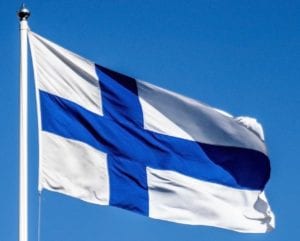 Finland is accelerating its NewSpace economy. The private space industry is truly taking off with companies specialising in a wide variety of areas from small satellite design and manufacture, SAR and hyperspectral technology to space sustainability technologies. Importantly, the space sector is also supported by the Finnish government that has put in place frameworks to encourage private space actors to pursue their dreams. Torsten Kriening took the opportunity to speak with Jenni Tapio, Chief Specialist, , Ministry of Economic Affairs and Employment of Finland, at the ESPI Autumn Conference 2019 in Vienna, to discover more about the country's ambitions in space.
Finland currently holds the EU Council Presidency, so that really puts you in the spotlight. Please tell us about your activities and your current achievements.
We are three months into the term. So far, we've been able to introduce certain topics that we feel are important, and we will be continuing discussions. I think the themes that are important and relevant to us in the EU Council Presidency also apply on a national level. In the space context, these are related to the new space-based economy, and to the sustainable uses of outer space.
Finland has developed a new space economy profile. We currently have seven satellites in orbit, all created and operated by private actors such as scientific institutions or companies.  We've been setting up a framework and we have had space legislation in force for one and a half years. This allows the state to regulate activities and sets up the licencing process for those private actors. Due to the fact that we don't currently have any governmental activities in space, this entire framework is set up to not only govern, but also to help these private activities in space.
Congratulations on the space legislation that is now in place. Can you elaborate a bit on the nature of your space legislation? You pointed out that it is very business-oriented.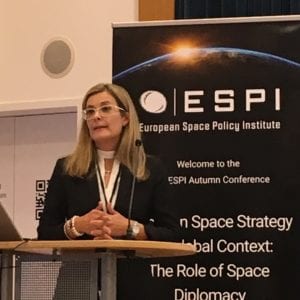 Space activities inherently are such that the government has a requirement to authorise and supervise such activities and there's also a liability element connected to this. If damage occurs, the state has the primary liability to compensate. For this reason, we need regulation that sets out clear requirements. The supervision process that is detailed at the legislative level helps in terms of investment for companies, because they will then know on what terms licencing is possible, what sort of permissions are allowed and how to get the licence. For example, you have to make the licence application six months prior to your mission being launched.
In Finland, the government is approachable and this is clearly a benefit. Space actors can just call us up and ask for more specific details if that is what is required. I firmly believe that setting out a clear framework, and being open, transparent and approachable to space actors is one of the key elements for businesses.
I must add that space activities are never in isolation and there are other types of regulation and licencing that is relevant. For example, we have set up various different frameworks and networks for businesses through Business Finland, which will also foster the growth of the space sector. Additionally, we have the ESA Business Incubation Centre at Aalto University. A combination of these elements will benefit the business.
How are you dealing with space exploration topics, such as space resources? Is this a topic that's relevant for you already?
To my knowledge there is currently no private interest expressed to explore any further than near-space, in Finland. However, if there was, our regulation could possibly accommodate this because there is flexibility in the scope of the activities detailed in the legislation. If there was a licencing application for a space resources business, this could potentially be licenced under the Space Activities Act. At that point, however, the state would need to consider whether such activities fall within the international obligations of the state and what the state considers international law currently to be. But, in theory, this sort of activity could be included within the act.
That's interesting, that's a smart approach to this issue.
Inherently, these are global issues. I think it's good to refer to international discussion and see how the multilateral approach is working.
Absolutely. Let's talk about satellite operators in Finland and how the government helps to support them. Can you tell me more?
I'm particularly proud of all of the operators' activities in Finland. There is a strong knowledge base that is being built upon. They are very enthusiastic people. There are the scientific institutions that are providing the required foundation for such activity and businesses are spinning off from scientific institutions. They feel that it's also part of the agenda to support education. Young people are learning to build satellites in university, which is fantastic.
We are a small country so there's easy access to people and you can approach them very easily to network and discuss all aspects of the space industry.
So how big is the space industry in Finland at the moment, in terms of people involved?
It's very difficult to calculate, because we need to define what the space business actually comprises and whether you include only upstream activities in that definition. Our law only governs upstream activities – this is the approach taken by the UN Space Treaties. However, key value creation comes from the downstream market in terms of the utilisation and further enhancement of space data. That market is obviously much bigger, but there's always the issue of whether the downstream market is part of the bigger digital data economy. And should you even separate data coming from space from different sources? It's very difficult to calculate because there is no set definition for that.
What is the goal of connecting space and the Arctic?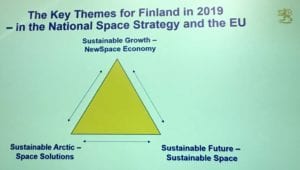 Sustainable growth of business in the Arctic areas of great significance, for example because it is becoming more important transportation route. However, it's also critical in terms of the issues relating to climate change and therefore the preservation of that fragile Arctic environment must at all times be taken into account when developing business in that area. In that way, sustainability, climate change, and the new space economy all converge as one.
Finland is part of the Arctic Council. There is a lot in the political agenda about the opportunities as well as the challenges that lie in the Arctic region.
What is your takeaway from this Congress and what is needed, in terms of space diplomacy?
I think there was a lot to take away from this conference. It spreads across so many sectors that it's sometimes difficult to define what space diplomacy actually means. However, I think one of the key messages was how to how to balance competition and cooperation, that we need to work together to be able to solve the issues that cannot be solved by one government or region.
This is also the reason why we have important entities in Europe such as the European Union, or European Space Agency, or the United Nations. We know that, alone, we cannot make a change but we actually have to work together to be able to deal with issues such as sustainable uses of space. That said, I feel that we still have a lot of work to do in terms of defining and understanding these issues as we don't all necessarily understand things in the same way. So from a lawyers perspective, someone who works with definitions, it would be great to advance the understanding of these terms and what is meant by them to determine the concrete actions that can be taken at national level.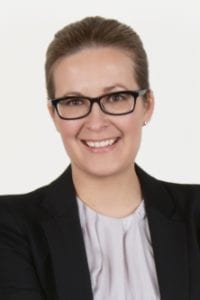 Bio: Jenni Tapio holds the position of a Chief Specialist with a special focus in Space Law, representing the Finnish Government at the United Nations Committee on the Peaceful Uses of Outer Space (UN COPUOS) in all its Committees, and acting as the Head of Delegation for the Legal Subcommittee. Ms. Tapio is the Finnish delegate for the European Space Agency (ESA) International Relations Committee. Prior to joining the Ministry of Economic Affairs and Employment of Finland, Ms. Tapio was employed for 15 years in the private sector specialising in Technology, Telecommunications, Satellites and Space law, most recently as an attorney-at-law at Bird & Bird Attorneys, and
previously as an In-house Legal Counsel for Airbus Defence and Space, and Nokia Corporation. Ms. Tapio holds a LL.B in English and European Laws (Hons.) from the University of Essex, a LL.M degree in International Business Law with a focus on European Union law, as well as a Master's degree in Public International Law from the University of Helsinki. She is currently a Doctoral Candidate (LL.D) in Space Law at the University of Helsinki. Ms. Tapio is a member of the Board of the European Centre for Space Law (ECSL), and a member of the International Institute of Space Law (IISL).
Spacewatch.Global thanks Jenni Tapio of the Ministry of Economic Affairs and Employment of Finland for the interview.