By Sonay Sarac
At the 74th UN General Assembly on 5 November 2019, Germany voted on four draft resolutions on arms control in space. This commentary provides information on how and with what intention the vote was taken, and why space weapons play a central role in this matter. The context for this commentary is provided by an article by RT Germany from 3 December 2019.* The content of the article presents the facts about Germany's role in international space security policy incompletely. Therefore, this commentary will try to clarify this topic in the following.
The starting point of the said article is a Tweet by U.S. Secretary of Defense Mark T. Esper dated 1 December 2019. In this Tweet, he explains that space is vital for national security and the U.S. way of life. The establishment of the U.S. Space Force will therefore ensure that the country always maintains its space superiority:
"Space is vital to U.S. national security & our way of life. Establishing the U.S. Space Force as the sixth branch of the Armed Forces will put us on the right path to ensure we always maintain our superiority in space.— Secretary of Defense Dr. Mark T. Esper (@EsperDoD) 30. November 2019"
Based on this quote, Florian Warweg, the RT Germany editor, asked at a federal press conference how, "the federal government classifies the Pentagon chief's statement". Rainer Breul, Deputy Spokesman of the German Federal Foreign Office, emphasized in his answer the German interest in the peaceful uses of space. This can be tracked in the embedded video of the article. At the same time, however, Florian Warweg's article also contains the following quote:
"At the Federal Press Conference (BPK), the German Federal Foreign Office in particular regularly stressed that the Federal Government was making great efforts to avoid the militarization of space. But the real steps taken by the federal government speak a different language. On November 5th, for example, Germany voted against the UN resolution entitled "Further practical measures for the prevention of an arms race in outer space". In contrast to Germany, a majority of 124 states voted for the resolution."
This paragraph suggests that Germany is officially in favour of the peaceful uses of space, but that it is acting to the contrary at the multilateral level. The author of the article does not answer the question of why Germany rejected this and another draft resolutions. So, there is a risk that readers will misinterpret the German policy in regard to space security. The aim of this short commentary is, therefore, to embed this article in a meaningful and objective context and to pursue the question just mentioned.
Germany's Statement and Voting Behaviour at the UN General Assembly
On 5 November 2019, the 74th UN General Assembly took place in New York, and in the Committee on Disarmament and International Security, space security was again on the agenda. States not only voted on the draft resolution "Further practical measures for the prevention of an arms race in outer space," as the draft resolutions "No first placement of weapons in outer space", "Prevention of an arms race in outer space" and "Transparency and confidence‑building measures in outer space activities" were also the subject of this main committee.
Ambassador Peter Beerwerth is currently the Permanent Representative of Germany to the Conference on Disarmament. In his statement, he expressed that Germany would continue to promote the guarantee of safe, sustainable, and peaceful uses of space. At the same time, Germany is concerned about the development of counterspace capabilities, which is why Germany continues to advocate for the prevention of an arms race in space. According to Ambassador Beerwerth, preventing an arms race and conflicts in space is essential for international security and stability. Against this background, Germany is open to initiatives that significantly improve arms control policy in this context. The statement also expresses the importance of transparency and confidence-building measures.
But why did Germany vote against these apparently important UN draft resolutions despite this positive statement? Ambassador Beerwerth was critical of an important draft treaty, known as the Treaty on Prevention of the Placement of Weapons in Outer Space and of the Threat or Use of Force Against Outer Space Objects (PPWT). The PPWT was originally proposed by the Russian Federation and China, with the purpose of establishing effective arms control in space, complementary to the 1967 Outer Space Treaty. Russia and China, along with their allies, want to prevent space weaponization with this draft treaty. The threat and the use of force against objects in space are also to be prohibited according to the wording of this draft treaty. However, Germany does not regard this as a "sufficient basis" for achieving effective arms control. This objection is justified because this draft treaty does not adequately define what space weapons are. The draft treaty is limited in its definition only to objects placed in space and this would affect space-based weapons, but not ground-based weapon systems such as long-range ballistic missiles. It should be noted that China successfully destroyed its weather satellite Fengyun-1C with such a ballistic missile and caused a large amount of space debris back in 2007. Ambassador Peter Beerwerth, therefore, asked the following question:
"How do both initiators of the draft treaty intend to reconcile their approach with the fact that they already possess and are developing further capabilities, including ground-based anti-satellite capabilities, which are not explicitly included in the scope of the draft treaty but nevertheless cause significant and serious threats to space systems and the space environment?"
Against this background, it can be guessed why Germany rejected various draft resolutions on 5 November 2019. For instance, the draft resolution titled "No first placement of weapons in outer space," fails to respond to the objectives of maintaining and strengthening trust according to Germany's representative. Instead, it contains ambiguities and shortcomings while at the same time lacking a definition of space weapons. The European members also voted against the draft resolutions titled "No first placement of weapons in outer space," and "Further practical measures for the prevention of an arms race in outer space." The delegate of the European Union gives similar reasons for voting behaviour as Germany's representative. He said, "[No first placement of weapons in outer space] does not ensure trust in outer space and can create a conflict when one State can confuse another State's object for a weapon."
In this context, however, it should also be noted that Germany has agreed to the draft resolutions "Prevention of an arms race in outer space," and "Transparency and confidence-building measures in outer space activities." This is important since it demonstrates Germany's true intention supporting norms to achieve peaceful uses of space. The draft resolutions rejected by Germany do not go far enough
The voting behaviour in all four cases clearly demonstrates that Germany is not pursuing a 'double-track' policy in space security, as Florian Warweg's article implies – in fact, quite the contrary. The rejected resolutions do not correspond to the German and European ideas of effective space security, because they do not go far enough. Not only is there no adequate definition of space weapons, but mechanisms to create transparency and trust are also lacking.
So why did the majority of 124 states vote in favor of the draft "Further practical measures for the prevention of an arms race in outer space"? The political majority behind China and Russia may have several reasons. First of all, their allies are mostly developing countries that have nascent interests in space. Therefore, modifying the space security architecture to new circumstances is their goal. For China and Russia in particular, however, it is likely to play an additional role to restrict the scope of action of the U.S. with a binding treaty and to create a balance of power in space. It can be assumed that the current geopolitical context could also play a role in voting behaviour. On the other hand, no country is as dependent on space as the United States. For this reason, Washington, DC, is anxious to close its security gaps in space. The United States is again focusing increasingly on unilateral policies, such as the creation of a Space Force. However, military cooperation also exists but is limited exclusively to allies. Internationally, on the other hand, the United States has been insisting for years on maintaining the status quo, consisting of an abstract space treaty with loopholes. A porous network of international treaties that allow a wide scope for interpretation of what the peaceful uses of space means is important to the United States. In this way, they can pursue their military programmes in accordance with the applicable norms in order to secure their sovereignty.
*The referred Article: https://deutsch.rt.com/inland/95332-regierungssprecher-zu-militarisierung-weltraums-nato-frieden/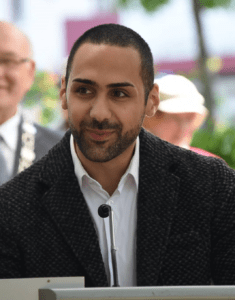 Sonay Sarac earned a Peace and Conflict Research M.A. at the Goethe-University in Frankfurt, Germany, with the focus on Space Security and Space Policy. Since 2017 he has been the Space Security and Defence Expert at the German Society for Aeronautics and Astronautics.