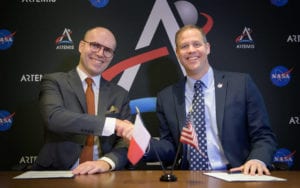 The leaders of the Polish Space Agency (POLSA) and the United States National Aeronautics and Space Administration (NASA) signed a landmark Joint Statement of Intent for Space Cooperation on 24 October 2019 during the 70th International Astronautical Congress in Washington, D.C.
On 24 October 2019, President Michal Szaniawski, head of the Polish Space Agency (POLSA), joined with Mr. James Bridenstine, NASA's Administrator, to formalize cooperation and coordination between Poland and the United States on space exploration and mutually-beneficial space pursuits. Poland is proud of more than five centuries of experience in space research and exploration, and it is eager to join with NASA and the United States in more formal, joint space exploration efforts in the years going forward. On the occasion of the signing event, Minister Jadwiga Emilewicz said:
"Today, space is closer to our day-to-day life than some people may think, and the space sector provides great opportunities for the development of Polish scientists and entrepreneurs. It's not a field far away, but one of the most innovative parts of the economy, one whose outcomes we use every day. It has a growing national and international importance for economies, science, and other facets of our lives. I am more than happy to hear about this new stage of cooperation between the Polish Space Agency and NASA. I believe that it will accelerate the development of this promising sector and will be hugely beneficial for both parties."
During just the past 40 years, over eighty 80 instruments designed and constructed by Polish scientists and engineers have been employed in various international space missions, and seven years of participation in the European Space Agency (ESA) have resulted in the dynamic development of the Polish space sector, in which more than 350 Polish enterprises operate. These companies and institutions cooperate with ESA and other national agencies, including NASA, DLR (German Space Agency), JAXA (Japanese Aerospace Exploration Agency) and CNSA (China National Space Administration). These include several sensors and robotic probes on NASA's Mars Curiosity and InSight landers, among other significant accomplishments.
During the signing of the Joint Statement on Space Cooperation, which highlighted the countries' respective interests in cooperative human and robotic space exploration in all spheres, President Szaniawski enthusiastically stated:
"The Joint Statement on Space Cooperation that we sign today is just the first step, but it reaffirms that Poland and the United States are committed to genuine partnership in robotic and human exploration, planetary protection, the expansion of Earth science and planetary science knowledge and applications, and the full benefits of space for the benefit of all humankind. We are pleased to join you on this journey."