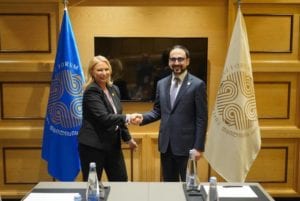 Government ministers from Armenia and Georgia met recently to discuss a range of economic and technical cooperation proposals, among them satellite communications.
Tigran Avinyan, the Deputy Prime Minister of Armenia, met with the Georgian Minister of Economy and Sustainable Development, Natia Turnava, in the Armenian capital city Yerevan on 22 October 2019.
The two countries discussed a range of economic issues and proposed cooperative initiatives that include renewable energy, Artificial Intelligence (AI), microelectronics, and satellite communications.
Both countries, located in the geopolitically complex South Caucasus, acknowledged that there is "untapped potential" in their bilateral economic relations, and are willing to boost the level of collaboration with "ambitious projects."
Armenia is believed to have a communications satellite on order from an unknown Russian satellite manufacturer, while Georgia has no presence in space.
It is believed that Georgia contracts with Azerbaijan's AzerCosmos for much of its satellite communications and Earth observation needs. AzerCosmos is the biggest satellite operator in the Caucasus, operating the Azerspace-1 and Azerspace-2 communications satellites, and the AzerSky Earth observation satellite.
Armenia, meanwhile, relies on Russia for much of its satellite needs. Both Armenia and Azerbaijan are locked in an ongoing diplomatic and occasionally armed dispute over the sovereign status of the Armenian enclave of Nagorno-Karabakh located within Azerbaijani territory.
Further details regarding the shape and scope of the proposed Armenian-Georgian cooperation on satellite communications were unavailable at the time of reporting.