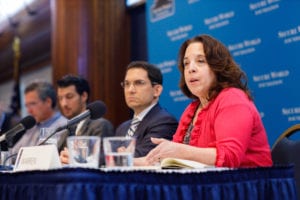 Last March, Secure World Foundation was pleased to announce the inaugural Summit for Space Sustainability, to be held in Washington, DC on June 25-26, 2019. Our creation of the Summit was driven by the rapid growth in both the number and diversity of space actors, the emergence of new kinds of space activities, and the resulting space sustainability challenges posed by these developments. These changes are driven by commoditisation and globalisation of space technologies, increased public and private investment in space, and growing awareness of the value of space for security and socio-economic benefits on Earth. The increase in the number of stakeholders benefiting from space systems has exposed the challenges that existing legal, policy, technical, and operational regimes face in ensuring the long-term sustainability of the space environment.
Space sustainability has greatly increased in salience as a policy topic over the past decade, but this growth in awareness has not always translated into definitive action. Additionally, the linkages across a variety of space sustainability issues and initiatives are not always clear, even to those focused on this field. With the aim of stimulating fresh ideas and dialogue, the Summit combined thought-provoking and diverse perspectives, including international viewpoints not often heard in the United States, which encouraged fresh thinking, audience participation, and solution-building.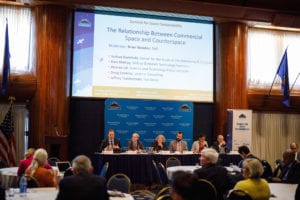 We were pleased that the first Summit for Space Sustainability drew a cross-disciplinary mix of more than 200 international participants from across the space and non-space communities spent two days discussing current space sustainability challenges and ideas for how to resolve them. The topics examined included space debris and space situational awareness, space law and policy, space governance, national and international space security, commercial space,  and the use of space for human and environmental security on Earth. Across all of those topics, speakers and participants offered ideas on the event theme of how to create norms of responsible behaviour that can enhance space sustainability.
The Summit kicked off with six spotlight speakers providing  stage-setting overviews of trends in: the state of the space environment, the globalisation of space, the rise and promise of commercial space, the militarisation and potential conflict in space, the role of space for benefits on Earth, and the past and future of space governance. The spotlight talks were followed by panel discussions on the challenges posed by new actors in space, whether space traffic management should be a top-down or bottom-up exercise, and links between commercial space and counterspace. A consistent theme throughout the panel discussions was that these various topics often involve complex interactions between multiple stakeholders and types of actor and that no single policy action or mechanism is likely to resolve them.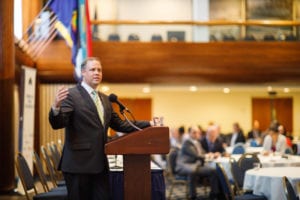 Intermixed in the discussions were a luncheon keynote address by Mr. Kevin O'Connell, Director of the Office of Space Commerce in  the U.S. Department of Commerce and a keynote by Mr. Jim Bridenstine, the Administrator of NASA. Mr. O'Connell highlighted the importance of space sustainability to the future developing of commercial space and how the Department of Commerce is working to encourage proactively developed standards and best practices which ensures that industry views are broadly represented and that those views are incorporated into any future licensing and regulatory discussions. Mr. Bridenstine spoke about the importance of space sustainability for future human spaceflight and space exploration.
Conversations continued on the second day with a keynote interview with the CEOs of Iridium and Virgin Orbit, Matt Desch and Dan Hart respectively, conducted by Jacqueline Feldscher, the National Security & Space Reporter with POLITICO. The two CEOs talked about why space sustainability was essential to their company's business plans, their commitment to being responsible actors in space, and the need for other satellite operators to do the same.
Following the interview, participants heard two final panel discussions. The first brought together several non-traditional space actors to look at the connection between space sustainability and how we use space applications for benefits on Earth. The closing panel sought to bring synthesise previous ideas and suggest what specific norms of behaviour the space community should be focusing on across commercial, civil, and national security space activities.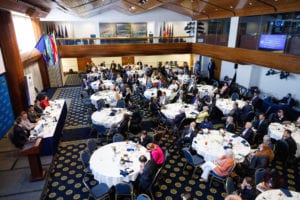 The Summit for Space Sustainability would not have been successful without the outstanding support from our partners and sponsors. Sincere thanks go to Space Logistics, Virgin Orbit, AGI, Astroscale, OneWeb, and the European Space Agency, whose commitment to the issue of space sustainability was evident not only through their sponsorship, but also their engaged participation at the event.
Secure World Foundation is committed to supporting solutions for space sustainability. In the coming weeks, we will continue to examine the ideas that came out of this event to develop further analysis, activities, and partnerships. We are already considering a second event for 2020 that will build on this year's discussions and take the next step towards solutions. With your involvement, we hope to make the Summit for Space Sustainability the primary gathering of global stakeholders committed to concrete action for space sustainability.
As Administrator Bridenstine said in his keynote address "We want all of humanity to benefit from space. If we wreck it, then it's not going to be available, not for this generation, not for the next generation, not for generations to come. The whole purpose of sustainability is to do amazing things."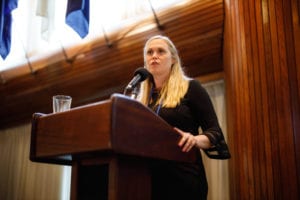 Bio: Krystal Wilson is the Director of Space Applications Programs at Secure World Foundation with over 11 years of international and domestic space, public policy, and management experience. Currently, she focuses on the Human and Environmental Security portfolio, which promotes improved governance and cooperation in the delivery and use of information derived from space systems.