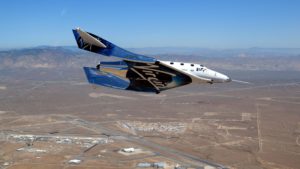 Virgin Galactic (VG) and Social Capital Hedosophia (SCH), a public investment vehicle sponsored by Social Capital and Hedosophia, announced that the boards of directors of each company have approved a definitive agreement under which the companies will merge, with the current shareholders of SCH expected to own up to approximately 49% of the combined company. Upon closing of the transaction, which is expected in the second half of 2019, VG will be introduced as the first and only publicly traded commercial human spaceflight company.
Virgin Galactic believes it has now reached an inflection point in its development as it progresses towards launching commercial operations. In particular, by demonstrating the repeatability of the full flight profile through the completion of two crewed spaceflights, the company believes it has overcome a substantial number of the technical hurdles required to make the company a viable and profitable commercial service.
In a statement, Virgin Galactic CEO, George Whitesides said: "This transaction represents the next step of our exciting journey. We believe it will offer us the financial flexibility to build a thriving commercial service and invest appropriately for the future."
VSS Unity, Virgin Galactic's spaceship is the only vehicle built for regular commercial service to have put humans into space. Its inaugural spaceflight in December 2018 was also the first and only human space launch from U.S. soil since 2011. During its second spaceflight in February 2019, VSS Unity became the first vehicle built for commercial service to carry pilots as well as crew.
Having reached these milestones, the Board of Virgin Galactic believes that the additional capital provided by the merger will provide the company with the support needed to reach commercialisation.
In addition to the more than $1 billion that has been invested in Virgin Galactic since its inception in 2004, the company believes its position within the emerging commercial human spaceflight market is reinforced by other significant barriers to entry for potential competitors. These include the vertically integrated technical and operational expertise built over 15 years, an established and highly experienced workforce and the strength of the Virgin Group's brand recognition. Virgin Galactic has built a pre-commercial service order book of more than 600 space tourism customers backed by over $80 million in deposits. In a transforming world of experiences and social media, Virgin Galactic believes that the market for exclusive, experiential products will continue to expand quickly and represents a significant opportunity for future growth.
As part of its commercial operations, Virgin Galactic has exclusive access to the principal assets at Spaceport America, New Mexico. Spaceport America is the world's first, purpose built commercial spaceport. As announced on May 10, 2019, Virgin Galactic is moving more than 100 spaceline staff and its space vehicles to Spaceport America, which will become the new location of its operational headquarters. Spaceport America will be the site of VG's initial commercial spaceflights and where the company will deliver a high-end, exclusive customer experience over the multi-day pre-flight period.
As part of this transaction, the existing management team of VG will remain in place following the close of the transaction with George T. Whitesides remaining as CEO, while a new Board, comprised of seven directors, will be augmented by the addition of Chamath Palihapitiya, as Chairman, and Adam Bain, both of whom are committed to the success of VG.
"It is a privilege to partner with Sir Richard Branson, a once-in-a-generation visionary, to bring the reality of commercial spaceflight to the world," said Chamath Palihapitiya, Founder and CEO of Social Capital Hedosophia. "We are confident that VG is light years ahead of the competition. It is backed by an exciting business model and an uncompromising commitment to safety and customer satisfaction. I cannot wait to take my first trip to space and become an astronaut."