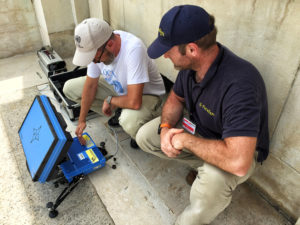 Paradigm has become a pioneer of satellite antenna systems and brings over two decades of experience to the market. The company has made a great impact in terms of making systems less complex and easy to operate in even the most remote and hostile locations. In this exclusive interview, Paradigm CEO, Ulf Sandberg, tells Helen Jameson about its huge contribution to market sectors such as military and government, media broadcasting and exploration with its ultra-portable rapid-setup VSATs and multi-band earth stations.
Can you begin by giving us a background on Paradigm and the market sectors that you serve?
Paradigm's development over the years has been driven by customer demand.  Our goal has always been to help our customers' meet their goals faster, better and cheaper; to determine the 'clear sighted solution'.  We work with customers to achieve the best solution by selecting the right components and products and then adding value to them, whether it's software, hardware, packaging, training or by developing a new product.
From more than 20 years of terminal development, Paradigm has made huge advances in simplifying the setup and pointing of antenna systems and in modularising satellite terminal elements.  With skillsets in software, installation, baseband management and NMS, our teams of hardware, software, RF and IT engineers have successfully reduced the complexity of satellite systems, making them easier to use so that users can focus on the task in hand.    These achievements were key to our selection in 2012 as an Inmarsat Global Xpress Land Terminal Manufacturer and their sole approved Global Xpress Terminal Integrator.
We meet demands from all over the world – specifically from the military & government, satcom/telco operators, broadcast/media, energy & exploration and maritime sectors.
The SWARM VSAT was released by Paradigm in 2016. Can you tell us about the VSAT and its unique attributes?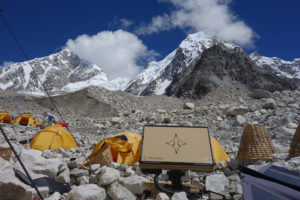 The SWARM® is by far the best performing, lightweight flat panel terminal on the market.  It's one of the easiest to use due to the innovative PIM® (Paradigm Interface Module) terminal controller; this enables a non-skilled user to point a terminal in less than a minute, simply by following straightforward audio and visual cues.  It removes the need for a spectrum analyser and all cues are provided onboard the PIM; not even a laptop or external screen is necessary.  The PIM represents an easy to use interface that provides a simple, common pointing experience, plus it's technically agile and versatile allowing it to be integrated with all types of VSAT and modem technologies.  The PIM is able to work with any air interface and so other antenna manufacturers can use it as the 'brain' of their system, opening up a fast track to certifications and markets for a number of satellite networks.
The SWARM fits into a backpack or airline carry-on case and so can be easily and quickly transported.  Once on site, it can be out the bag and setup in 90 seconds. The SWARM's modular design means that it is operable on Ka, Mil-Ka, Ku and X-Band and can support a wide range of satellite networks.  With the simple addition of a laptop, router and a SIP phone handset, it will provide secure "beyond-line-of-sight" video and data comms without any need for local network infrastructure.  Add in the PIM Pack and the user also achieves autonomous use and the ability to use any locally available power such as vehicle batteries, solar panels and generators where available.
The SWARM has been an extremely popular product for Paradigm and has been deployed across 5 continents since its launch. In which market sectors have you found most success and in which regions has most need for SWARM been experienced?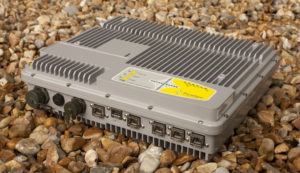 The global defence sector was swift to adopt the SWARM due to its ultra portability and ruggedness.  It fits into an easily-carried backpack and has a terminal datalink capability of greater than 25Mbps – giving the best size-to-performance ratio in the market.
We've also seen the NGO and government sectors expanding with our cost-effective, rugged and portable PIM-based terminal solutions, particularly the CONNECT100T for longer term support service after an initial first deployment with the SWARM terminal.
For broadcasters, being 'first on the scene' and breaking the story is more and more critical with the immediacy of social media platforms.  Consequently, satellite terminals that are easy to use and simple to setup have become essential for the media sector.
A satellite system that can be easily carried, setup anywhere and supports high data throughput provides a mobile office in the true sense of the word.  Operating the SWARM with minimal training after carrying it as hand luggage on the flight makes this remarkable terminal highly attractive for this sector.  The PIM can also enable a secure network to be created for VoIP, SIP and cellular phones and can even provide the Power over Ethernet to localise power requirements.
Geographically, from being proven and heavily fielded in the Western world we're now focussed on the further development of the Middle East and Asia markets.  Our SWARMKu variant has sparked real interest over a number of sectors throughout Asia due mainly to its high-throughput and field-proven ability to provide a reliable solution to mobile connectivity.
Global demand for the SWARM terminals has swept across many sectors including government, first responder, military and broadcast.  Roll-outs and field implementations have been achieved across 5 continents as you say, but there is no indication of the demand slowing – in fact, quite the opposite.  The SWARM is robust, reliable and field-proven.  Going forward, we are expecting even more network registrations across all frequencies and for the SWARM to become an integral standard component for military and government operations all over the world.
What new products and developments are you launching now and into 2019?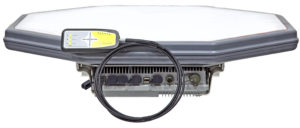 We have just launched the MANTA in cooperation with Kymeta, a single case solution for mobile operation either in a tactical, static environment or attached to a vehicle's roof bars for satcoms-on-the-move. It integrates a self-pointing antenna with the PIM so it's really easy to use for either scenario.  Users just need to add power to be on the network and transmitting video and hi-images in minutes.  The antenna utilises software to form beams and track the satellite and a remote – which can be either handheld or dashboard-mounted – provides live beam heading indication, satellite selection, transmit mute and system status information.
We can see the MANTA revolutionising the satcoms-on-the-go market; it is quick and easy to use and because of the PIM it will accommodate a multitude of modems.
Also we have the next generation HORNET terminals which are high-throughput, single case solutions offering extreme flexibility because of their interchangeable modular design.
The antenna, RF and feed can all be changed whilst in the field thus providing mobile military units and first responders with a huge range of options.
The antennas are available in sizes from 60cm up to 100cm and are segmented and of carbon fibre construction. The RF modules range from 5 to 80W and the terminals can operate on Ka, Mil-Ka, Ku and X-Band.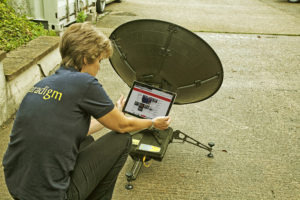 Again, these terminals are controlled by the PIM and so offer more options for lightweight, easy-carry terminals with tool-free setups and quick and simple operation for any user.  And of course, like any PIM-enabled terminal they can integrate all of the major modems.
We are also looking into variations of the high-speed satcom terminal in a single airline carry-on case.  Future developments will involve integrating the terminal into the case to speed up the setup time even more.  This sort of self-contained option will also be more discreet for covert and high risk deployments.
At the same time, the PIM terminal controller will continue to benefit from software updates to enhance capability and further simplify the pointing process.  The existing SWARM is already available with more terminal options covering frequency band, modem and colour.  These meet demands from specific user groups.  With the addition of the PIM Pack it can also offer good flexibility with respect to alternative power input options such as solar, wind and vehicle batteries.
So lots coming up, it's a really exciting time for us.
You are a terminal partner for Inmarsat's Global Xpress HTS service. What has the market reaction been to this offering now it has been deployed since 2014?
The portability and ease of use of Paradigm's Global Xpress (GX) terminals has supported the popularity of GX in the market.  Because they all integrate a common controller (the PIM) to provide an array of options they can be used anywhere in the world, easily setup, then easily moved with fast re-deployment and instant satellite access with GX.  All very attractive to small, fast-moving response teams.
These features were exemplified in the recent RAF expedition to The Himalayas which formed part of the 2018 celebrations to mark 100 years of the RAF.  The small Alpine Team carried the SWARM as they ascended over 5000m, successfully using it to transmit hi-res photos and images around the world; promoting the mission on social media and keeping the team in touch and safe.  Global Xpress provided them with high-speed connectivity in one of the remotest locations in the world and the SWARM provided quick and easy set-ups and reliability in high wind, heavy rain, snow and extreme sub-zero temperatures.
The HORNET and CONNECT terminal ranges also provide excellent portability options on GX and other networks.
The cost-effective, high throughput CONNECT100T terminal is an ideal solution for longer term deployments.  Its 3-cases are still IATA compliant but its ruggedness and one metre antenna provide an ideal low-cost follow-up option to an initial SWARM deployment. The carbon-fibre HORNET terminals are lighter in weight but similarly offer good longer-term deployment options
Vertically, our role as Inmarsat's sole Global Xpress integrator will evolve much further as GX is more widely adopted.  With the commercially agile and rugged SWARM VSAT, Paradigm expects uptake to continue to increase.  We are also working closely with all the major satellite operators to provide viable solutions which utilise their networks fully.
Can you tell us about your hopes and dreams for Paradigm in 2019?
As we all know, the satellite industry doesn't stand still and our engineering team is constantly improving our range of products, skills and services to better suit the industry.  Together with our partners, we will continue our drive towards providing solutions that are resilient on every level, ensuring that satcom is accepted as a viable and affordable option for global communications.  This will cover support for new and up and coming satellite constellations as well as catering for a greater number of efficiencies and power supply options, moving away from a reliance on AC supply to increase satcom mobility.
And of course, a continuation of our innovative efforts to produce easily swappable modular components, straightforward setups and straightforward operation.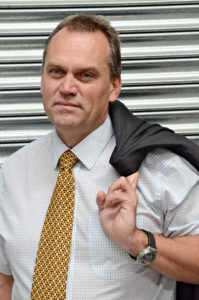 Bio: Ulf Sandberg, Founder & Managing Director, Paradigm
Ulf has over 30 years experience in the global satellite and telecommunications world. After completing his MSc in Physics at the Royal Institute of Technology in Stockholm, he served in the Swedish Armed Forces. From there Sandberg joined Notelsat, the operating company for Tele-X, one of the earliest Nordic Communication satellites. From there, he was with the Swedish Attaché for Science and Technology office, based in the USA. Leaving the Government sector, Mr. Sandberg worked for Swedish Telecom International and then Unisource, where he advanced to be Managing Director for the satellite business based in the Netherlands. As well as Versatel in the Netherlands, Mr. Sandberg was also involved in the start-up and creation of a number of companies and ventures in Europe and the USA.
In 1993 Sandberg became Managing Director, EMEA for ComStream, a San Diego-based satellite communications systems company, and was responsible for growing regional operations including the setting up of an office in Moscow, Russia. He was then with ACT Networks prior to starting Paradigm in 1996, where he has spent the past 20 years as Managing Director.