By Blaine Curcio and Tianyi Lan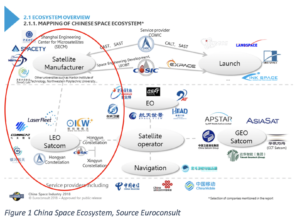 Over the past five years, and in particular over the past two to three years, the Chinese space industry has seen a dramatic increase in private company involvement. While these companies tend to be relatively small, they are great in number, with over 60 private space companies having been established in China over the past few years. Recent studies have highlighted this trend, with Euroconsult's recently published China Space Industry 2018 highlighting the plethora of companies moving into different parts of the Chinese space ecosystem, as shown at right.
Perhaps nowhere has this been more evident than the smallsat manufacturer and LEO satcom part of the industry. A recent study by CASTCC—the consulting arm of aerospace giant CASC—noted that in China alone, there are 17 professional entities with announced constellation plans. Many of these companies are at nebulous places on the value chain as it stands today, with aspirations to manufacture smallsats, operate a smallsat constellation, or somewhere in between. With that in mind, the Chinese smallsat and constellation industries have a high degree of overlap, and thus in this article, the two words are used interchangeably. These constellations broadly fall into two categories: SOEs and startups. The SOEs tend to have more funding, more R&D resources, and a broader mandate. Private startups, conversely, are generally attempting to specialize in a specific market segment, and have less—but in many instances still significant—funding.
The State-Owned Giants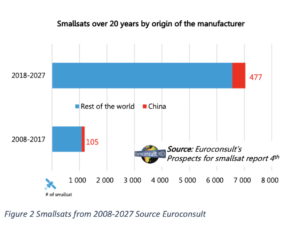 The most prominent Chinese LEO constellation plans are those pushed forth by China's state-owned aerospace giants, CASC and CASIC. CASC's LEO constellation, Hongyan, aims to provide global narrowband connectivity, with the project announcing in early December an investment of RMB 20 billion, or nearly U.S.$3 billion. CASIC's total allocation to its "five clouds" projects (two of which are LEO constellations) has been announced as RMB 100 billion, or nearly U.S.$15 billion, though it is unclear how much of this will be devoted to the two LEO projects, Xingyun and Hongyun. Overall, the three state-owned company projects have by far the largest financial backing, given that their parent companies are already enormous conglomerates, and also will have the backing of the government, which will be important from a regulatory perspective. With that being said, the state-owned giants are far from the only companies in China eyeing a constellation business model, with a large number of startups announcing plans, and more recently, putting hardware into space.
The Rise of the Private Sector
Spacety. Galaxy Space. Commsat. These names may not sound familiar to many Western readers, but they have been some of the hottest space startups in China during 2018. Each company has raised tens of millions of U.S. dollars in funding during 2018, with the year culminating in several successful launches recently that have put over a dozen smallsats into orbit. Euroconsult's recent Prospects for the Small Satellite Market, 4thEdition study points out that China will manufacture nearly 500 smallsats over the coming decade, with this figure potentially set to increase further due to recent (last six months) funding rounds and actual launches. Over the past year, these companies, among others, have been raising money, building capabilities, and developing their business models in an attempt to become China's first private constellation companies, smallsat manufacturers, or somewhere in-between.
Galaxy Space—Aspiring to be China's OneWeb
Galaxy Space is cited by some to be the most valuable private Chinese smallsat company, with the company's valuation as of its most recent round of financing (an unspecified amount raised in November 2018) exceeding RMB 3 billion (U.S.$435 million). The company has outwardly stated plans to develop a LEO broadband system, similar conceptually to OneWeb. Separately, the artist renditioning of Galaxy-1, shown at left, bears a striking resemblance to the same provided by OneWeb. While perhaps not the most original idea, Galaxy Space has announced plans to move quickly, with test satellites expected to be in orbit by next year. With significant funding from its founder—former Cheetah Mobile (NYSE:CMCM) executive Ming Xu—and additional funding from premier Chinese VCs such as Shunwei Capital (associated with Xiaomi's Lei Jun, a billionaire many times over), Galaxy Space is considered one of the more well-equipped aspiring private constellation companies in China.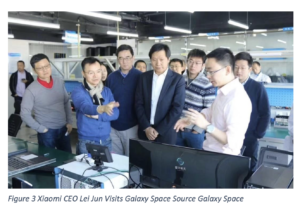 Galaxy Space has recently drawn increasing mentions alongside Xiaomi—a Chinese electronics conglomerate that recently completed an IPO in Hong Kong. In an article published in November titled From the Model of Xiaomi to Thinking of Internet in Space, Ming Xu compared Galaxy Space to Xiaomi, noting that both are "new species of companies," seeming to imply that both companies strive to provide an ecosystem of products and services, rather than any single product. Shortly after the publication of Ming Xu's article, Xiaomi CEO Lei Jun, one of China's richest people, visited Galaxy Space and advised them to use the existing expertise and experience of Xiaomi to help develop their 5G-oriented satellites.
Spacety—From Changsha with Love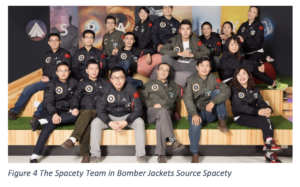 Spacety is one of the few Chinese New Space companies headquartered in Changsha, the capital of Hunan Province, and an otherwise unassuming city that is on the borderline of second-tier and third-tier within China. Spacety is taking a different strategy from Galaxy Space, in that the company is planning on building their own CubeSats and smallsats, while also potentially operating their own constellation. Spacety's funding has increased markedly over 2018, including finalizing a U.S.$22 million B-round led by Legend Capital (VC arm of Lenovo) completed in June.
In the past three years Spacety manufactured and launched 11 CubeSats of which nine were in 2018. Spacety's CEO Feng Yang has outwardly stated at various conferences that Spacety is not a satellite manufacturer, but a satellite solution provider. Rather than providing satellites as a product, Spacety aims to provide a turnkey solution. Now, Spacety's main satellite platform is 6U, and the company is working on technology in laser communication, scientific observation, and remote sensing.
Commsat— IoT and STEAM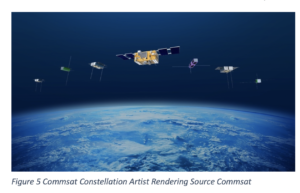 Among the early smallsat startup companies in China, Commsat was originally an IoT + STEAM (Science, Technology, Engineering, the Arts, and Math) company, selling smallsat kits to educational institutions. At the 2018 China Space Forum in Beijing, held in early December 2018, a VP from Commsat noted that the company's development has been made possible by a steady stream of income from the STEAM part of their business. In parallel, the company conducted R&D into various satellite constellation technologies, including IoT systems. Having now started to transition into a constellation operator, Commsat has raised funding to the tune of U.S.$30 million, coming from both private investors (Skychee Ventures) and state funding (Xi'an Institute of Optics and Precision Mechanics).
In early December, Commsat launched seven satellites onboard a Long March-2D. The company aims to launch 72 satellites into its constellation, with the first seven being a significant step. Shortly before the launch, the CEO of Chinese wearables company Huami (in the "Xiaomi Ecosystem" of companies) announced an agreement with Commsat that will enable Huami wearable users to send emergency messages from remote locations via applications utilizing satellite connectivity in some instances.
ZeroG Lab—From Manufacturer to Operator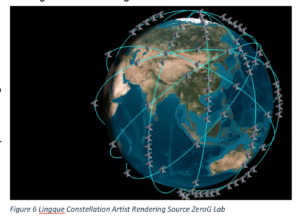 ZeroG Lab was founded in 2017 with a focus on simple, user-friendly CubeSat design. This is reflected in the company's website, which is modeled on an e-commerce platform. More recently, ZeroG announced U.S.$3 million of funding from Huaxun Fangzhou—a Chinese satellite equipment manufacture and aspiring satellite operator—to start development of the LingQue constellation, a 132-cubesat constellation in SSO and LEO orbit targeting Earth observation verticals. With this move, ZeroG Lab will be both the manufacturer and operator, and the constellation is the biggest CubeSat constellation announced in China as of December 2018. ZeroG Lab has thus chosen Shenzhen as a production hub, hoping to materially decrease the overall cost of CubeSat manufacturing due to scale.
LaserFleet – Laser Communications for In-Flight Connectivity (IFC)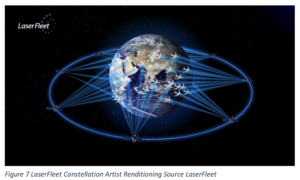 LaserFleet is a constellation aimed at providing IFC services via laser communications. The CEO and founder, Pan Yunbin, is a former aviation industry executive, including a stint as CEO of Beijing Shareco, an HNA Group-controlled company that tried to buy Global Eagle Entertainment in mid-2017, only to be overruled by CFIUS. With LaserFleet, it appears Pan hopes to utilize his existing aviation industry network and expertise and apply it to a satellite service provider business model. The company was founded in 2017, and launched its first experimental payload in late 2018—a Spacety-manufactured 6U satellite. The company is currently putting more focus on R&D pertaining to lasers (as opposed to satellites), as they do not plan to manufacture their own satellites for the constellation.
Conclusions
The smallsat and constellation industry in China is developing very rapidly, with the development being spread across SOEs with larger, more broadband-oriented ambitions, and private companies focusing on IoT, EO, and other verticals.
Interesting parallels with the West exist. OneWeb, the constellation company with the largest publicly announced funding, has raised most of its funding from SoftBank, a tech conglomerate headed by a tech billionaire. Galaxy Space has received high-profile backing, both in terms of indirect money and direct exposure, from Xiaomi CEO Lei Jun. Likewise, Commsat has formed an agreement with Huami, and Spacety has received funding from Lenovo-owned Legend Holdings.
Moving forward, it is a certainty that some of the aspiring constellations globally will not come to fruition. Companies aspiring to launch constellations—whether American, European, or Chinese, will face many of the same challenges, and no company has proposed a wholly workable solution yet. Of those that do succeed in deploying constellations, though, it is appearing increasingly clear that at least one will come from China.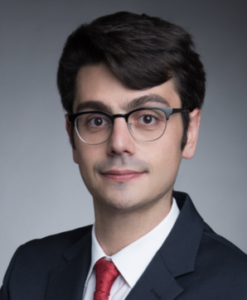 Blaine Curcio is the founder and owner of Orbital Gateway Consulting, a boutique market research and consulting firm focusing on emerging commercial opportunities in space and satellite industry, as well as the Chinese space/satcom market. Blaine is also a senior affiliate consultant for Euroconsult, and is based in Hong Kong. Blaine can be contacted at: [email protected]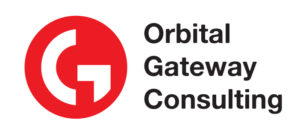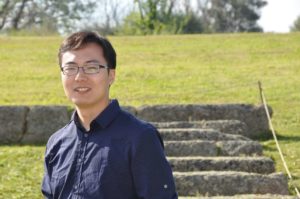 Tianyi Lan is the founder and CEO of Ultimate Blue Nebula Co. Ltd., a space and satellite consulting company. Tianyi is also the CEO of SpaceKey and was formerly an engineer at the China Academy of Space Technology (CAST). Tianyi Lan is based in Beijing. Tianyi can be contacted at: [email protected]