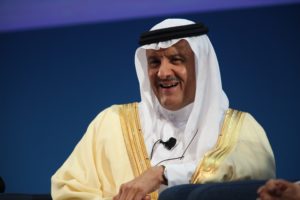 The Kingdom of Saudi Arabia has established the Saudi Space Agency as part of a leadership shakeup enacted by King Salman bin Abdulaziz Al Saud, in a Royal decree issued late on 27 December 2018.
The Saudi King appointed his 62-year old son and former astronaut Prince Sultan bin Salman bin Abdulaziz Al Saud as the head of the Saudi Space Agency, which is also a Cabinet-level position.
Prince Salman was the first Arab and Muslim to go to space when he was a mission payload specialist on a U.S. Space Shuttle Discovery mission in 1985 that placed the ARABSAT-1B communications satellite into orbit. Prince Salman also holds the record for being the youngest astronaut, going into space at the age of 28.
Since his space mission in 1985, Prince Salman has served as Chairman of the Board and President of the Saudi Commission for Tourism and National Heritage, and has also been an advocate in the Arab world for science, technology, engineering, and mathematics (STEM) education for Arab youth, and for Arab involvement in space science and exploration.
Saudi Arabia has a long history in space and satellite activity, with much of this activity emanating from the King Abdulaziz City of Science and Technology (KACST). The newly created Saudi Space Agency will likely coordinate and produce Saudi Space policy and strategy across the civil, commercial, and military sectors in cooperation with other Saudi government ministries and agencies. The Space Agency will likely also be the focal point for all Saudi international space cooperation.
KACST will most probably retain its role as a Saudi centre for satellite manufacturing and research and development, as well as for implementing and managing space science and exploration research and missions.
Through KACST and Arabsat, Saudi Arabia has developed numerous communications and remote sensing satellites over the past several decades, and has contributed an imaging payload to China's Chang'e-4 lunar mission that is currently underway.
Only the other week, SaudiSat-5A and -5B Earth observation satellites manufactured by KACST were launched into orbit by China. In early 2019, ARABSAT-6A, built in cooperation with Lockheed Martin, will be launched from Cape Canaveral on board a SpaceX Falcon Heavy launch vehicle.
Additionally, Saudi Arabia is believed to be actively interested in acquiring a number of military reconnaissance satellites via French or American satellite manufacturers, and is also believed to be involved in discussions with the Russian state space corporation, Roscosmos, about training and sending Saudi astronauts to the International Space Station.
The decree issued by King Salman on 27 December was part of a major reshuffle of Saudi government portfolios that many analysts believe to be an attempt to revamp Saudi Arabia's international standing following the controversy surrounding the circumstances of the death of prominent Saudi journalist Jamal Kashoggi in the Saudi consulate in Istanbul in early October 2018.