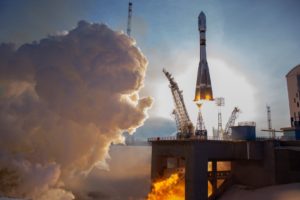 The last Russian satellite launch of 2018 took place on 27 December 2018 when a Soyuz 2-1A launch vehicle lifted off from the Vostochny Cosmodrome, lofting two Kanopus-V remote sensing satellites and twenty-six secondary payloads into orbit with the aid of a Fregat upper stage.
The Soyuz 2-1A launched at 11:07 local time (02:07 UTC) from the Vostochny Cosmodrome located in Russia's Far East.
The Kanopus-V satellites – Numbers 5 and 6 – join a constellation of six civilian Earth observation satellites operated by the Russian State Space Corporation, Roscosmos.
Kanopus-V – also known as Kanopus-Vulkan – satellites have three sensors to image the Earth at visible-light and near infrared wavelengths.
The Kanopus-V Panchromatic Imaging System (PSS) aboard the Kanopus satellites can capture images at resolutions of up to 2.5 metres. The Multispectral Imaging System (MSS) provides a resolution of 12 metres over four spectral bands. The Multispectral Scanner Unit 200 (MSU-200) has a resolution of 25 metres.
The Kanopus-V satellites were built by NPP VNIIEM in cooperation with UK satellite manufacturer Surrey Satellite Technology Limited (SSTL). With a mass of 473 kilograms, the satellites are expected to have an operational lifetime of at least five years.
As well as the two Kanopus-V satellites, the Soyuz 2-1A launch placed twenty-six secondary payloads into orbit. These smaller satellites were contracted through the commercial arm of Roscosmos – GK Launch Services, a partnership between Glavkosmos and ISC Kosmotras.
The largest of these secondary payloads is the 100-kilogram GRUS-1 Earth observation satellite that was launched for Japan's Axelspace. GRUS-1 is the first of three satellites that being developed by Axelspace to capture high-resolution satellite images. GRUS-1 has an operational lifespan of at least five years and will take images at a resolution of 2.5 metres with a swath width of 60 kilometres.
The remaining satellites that comprised the Soyuz 2-1A secondary payloads were all CubeSats, and include the following:
12 Flock-3K CubeSats for U.S. company Planet, built by the Dutch company Innovative Solutions in Space (ISIS);
ZACube-2 that will be operated by the French-South African Institute of Technoogy (FSATI) at South Africa's Cape Peninsula University of Technology;
Lume-1, a communications CubeSat developed by a consortium of European universities led by the University of Vigo in Spain;
Eight Lemur-2 CubeSats for U.S. company Spire Global, that will carry out GPS occultation and Automatic Identification System (AIS) functions;
iSat ADS-B CubeSat built by German Orbital Systems for Czech company iSky Technology;
D-Star ONE Sparrow technology demonstration CubeSat built and operated by German Orbital Systems;
UWE-4 CubeSat built by the University of Wurzburg in Germany that test a miniaturized electric propulsion system with Nano Field Effect Electric Propulsion (NanoFEEP) thrusters.