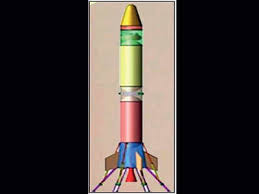 The Indian Space Research Organisation (ISRO) is looking to develop a reusable satellite launch vehicle similar to the reusable Grasshopper booster rockets from the SpaceX Falcon 9 satellite launch vehicle, The Times of India reports.
The Vertical Takeoff and Vertical Landing (VTVL) reusable launch vehicle concept is called ADMIRE, and was revealed at a conference in Ahmedabad, India, by Dr. B.N. Suresh, founding director and Distinguished Professor at the Indian Institute of Space Science and Technology (ISST).
ISRO's ADMIRE VTVL reusable test vehicle will feature supersonic retro propulsion and specially designed retractable landing legs that will also act as steerable grid fins to guide the launch vehicle to its landing pad. The ADMIRE VTVL test vehicle will also feature an integrated navigation system with a laser altimeter and NavIC GNSS receiver that utilises the Indian Regional Navigation Satellite System (IRNSS).
"A test and landing site is being developed by ISRO for this purpose," Dr. Suresh said in his ADMIRE VTVL test vehicle presentation at an Indian National Science Academy symposium held at the Physical Research Laboratory (PRL) on 26 December 2018.
The ADMIRE VTVL test vehicle technology seems modeled on that used by SpaceX for its Grasshopper test vehicles, and the Falcon 9. The announcement of details about ADMIRE further confirms India's determination to develop a reusable launch vehicle capability along with China, Russia, and several European countries.
ISRO's ADMIRE VTVL test vehicle concept might be a follow-on programme from the ISRO Reusable Launch Vehicle Technology Demonstration (RLV-TD) programme. The RLV-TD was tested on 23 May 2016 when it was launched to an altitude of 65 kilometres during a 770 second rocket firing. A landing experiment, possibly involving ADMIRE VTVL technology, is expected to take place in 2019 but this has not yet been confirmed by ISRO.
A further test for the vehicle's ability to withstand the stresses of reentry into the Earth's atmosphere is also, reportedly, being planned by ISRO.