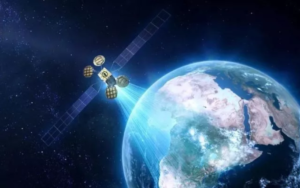 A Chinese Long March 11 launch vehicle successfully placed the Hongyun-1 satellite into orbit on 21 December 2018, making the first satellite launch of a planned 156-satellite communications constellation in low-Earth orbit (LEO), according to Andrew Jones at GBTimes.
The launch took place at 23:51 UTC on 21December 2018 (07:51 Beijing time on 22 December 2018) from the Jiuquan Satellite Launch Centre in the Gobi Desert, and put the Hongyun-1 satellite into a 1063 x 1075 kilometre Sun-synchronous orbit.
Hongyun-1 is the first satellite for the LEO global communications constellation also called Hongyun (meaning 'rainbow cloud') that was first announced by the China Aerospace Science and Industry Corpopration (CASIC), one of China's largest defence and aerospace contractors, in 2016.
"Using a common expression, we are moving the Internet currently on the ground into the sky. The first satellite of the Hongyun Project is China's first true low-orbit broadband communication satellite, which will greatly promote the development of space sectors, particularly commercial space," Hou Xiufeng, a CASIC spokesman, told CCTV, the state television broadcaster.
CASIC aims to have the Hongyun constellation system operational by 2022, with most of the 156 satellites operating at 1,000km altitude.
According to Andrew Jones, "Hongyun-1, will be used to verify low Earth orbit (LEO) broadband communication technologies, and also carries AIS (automatic identification system), ADS-B (automatic dependent surveillance) and DCS (data collection system) payloads."
Jones also points out that the Long March 11 launch vehicle used to put the Hongyun-1 satellite into orbit was supplied by the China Aerospace Science and Technology Corporation (CASC), another Chinese state-owned enterprise and the country's largest space contractor, and also a rival to CASIC.
CASC confirmed launch success of the Long March 11 approximately 40 minutes after lift-off.
CASC has also announced that it intends to carry out the first sea launch of a Long March 11 in June 2019. The company also said it has made a number of improvements to the launch vehicle, to include guidance design and flight control software.
"With the development of technology of the launch vehicle, we will increase the carrying capacity of launch vehicles to two tons. This will further reduce the cost of sending satellites to space," Li Tongyu, a director with the China Academy of Launch Vehicle Technology (CALT) under CASC, told CCTV.