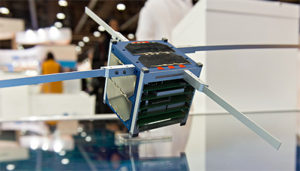 MYSAT-1, an educational CubeSat built by 20 students at Khalifa University in Abu Dhabi, United Arab Emirates, is due to be launched as part of the Cygnus NG-10 resupply mission to the International Space Station (ISS) on board a Northrop Grumman Antares launch vehicle from the Mid-Atlantic Regional Spaceport, Wallops Island in the United States, on 15 November 2018.
MYSAT-1 is capable of taking photographs of Earth and was developed for educational purposes in order to teach engineering students the necessary skills for satellite manufacturing.
Once Cygnus NG-10 reaches the ISS, MYSAT-1 will be taken on board the space station and will then be deployed at a later date from a CubeSat dispenser developed by NanoRacks on the ISS.
On 5 November 2018, NanoRacks Tweeted:
NanoRacks has flown research and satellites to @Space_Station from over 30 nations around the world. We're so excited to add the #UAE to this incredible group of space leaders. The #MySat1 #CubeSat from @yahsatofficial & @KhalifaUni will be launching on @northropgrumman's #NG10.
MYSAT-1 weighs 1.3kg and measures 10 centimetres by 10cm, and was built at the Yahsat Space Lab in Masdar City as part of a cooperative project involving students at Khalifa University, Masdar Institute of Science and Technology, and the Al Yahsat Satellite Communications Company.
The MYSAT-1 CubeSat is the first to be developed at the Yahsat Space Lab by 20 students enrolled in the Space Systems and Technology Master's in Engineering programme at Khalifa University.
Mona Al Muhairi, chief human capital officer at Yahsat, spoke of the MYSAT-1 project earlier in 2018, saying, "We are very proud of our engineers as they get us closer to launching MYSAT-1. With every step we make through the CubeSat programme, we demonstrate our commitment to Abu Dhabi Vision 2030."
"Yahsat is delighted to be part of this extraordinary journey by developing local talent and providing innovative satellite communications solutions whilst creating jobs across the region. Yahsat is a proud contributor towards the UAE space agenda, through empowering the national cadet with educational programmes and qualifying them to play an active role in further strengthening the UAE's position in the space sector. The achievement today is the fruit of our partnership with the Khalifa University and Northrop Grumman to create the region's first master's in engineering degree with a focus in space systems and technology," Al Muhairi added.