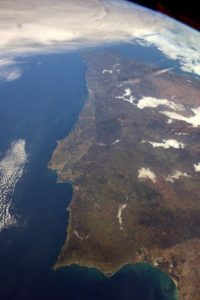 Portugal is about to make a big splash in the space sector with parallel announcements covering a major cooperative programme with China, and a proposed space launch complex in the Azores islands in the mid-Atlantic ocean involving European, Russian, and U.S. company bids to build it.
The cooperative programme with China is a laboratory that will build microsatellites for oceanographic research between Chinese and Portuguese scientists and researchers. The laboratory, to be called STARlab will establish facilities in Matosinhos and Peniche in Portugal and in Shanghai in China, and will construct the satellites to carry out detailed research in the interactions between oceanography and agriculture and fisheries.
The Portuguese Minister for Science, Technology, and Higher Education, Manuel Heitor, said that the STARlab project will cost 50 million Euros (U.S.$57 million), with China and Portugal splitting the costs evenly between them. Heitor said that the Portuguese financing will be a mixture of public and private funds.
The organisations involved are the Chinese Academy of Sciences (CAS) and the Science and Technology Foundation, Tekever aerospace company, and the Centre for Product Engineering and Development from Portugal. An agreement implementing the STARlab project will be signed by the Chinese and Portuguese presidents during a state visit to Portugal by President Xi Jinping in December 2018.
The proposed commercial launch complex in the Azores, called the Atlantic International Satellite Launch Programme (AISLP), has just completed an international round of expressions of interest that has seen fourteen companies and organisations from Europe, Russia, and the United States to build the spaceport on the island of Santa Maria.
The AISLP website says that the Azores provide a geographical advantage for satellite launch, stating, "In several recent independent studies, all the authors concluded that the Island of Santa Maria offers a privileged geographic location in the middle of the Atlantic, permitting an unobstructed launch trajectory, over the sea, for polar or SSO [sun synchronous] orbits, as well as a unique position between Europe, the Americas and Africa, representing a major advantage compared to other space ports in the world."
Portugal intends to select bid winners by mid-2019, and has stated that it hopes that the spaceport in the Azores will be operational by mid-2021.