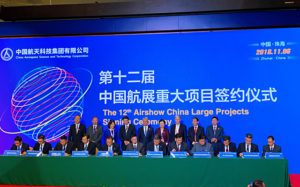 China Great Wall Industry Corporation (CGWIC) and China Siwei Surveying and Mapping Technology Co.Ltd. (China Siwei) signed a contract to collaborate on the overseas marketing of SuperView-1 satellite imagery at a signing ceremony held on the sidelines of the Zhuhai Airshow in China on 6 November 2018.
Since the launch of SuperView-1 01 and 02 in December 2016, CGWIC and China Siwei have been jointly working on the international market development of the constellation. SuperView-1 03 and 04 were launched in January 2018. Both CGWIC and China Siwei have committed to fully use their respective corporate strengths in order to achieve commercial success.
The SuperView-1 satellites are known in Chinese as GaoJing-1.
SuperView satellite imagery can be used in urban planning, agricultural crop estimation, land resources exploration, and other resource management and planning applications. This contract is the second one signed between the two companies regarding the overseas marketing of SuperView satellite imagery.
The SuperView satellite constellation consists of four satellites in orbit as of November 2018, and all have a resolution of 0.5 metres in panchromatic and two metres in multispectral. SuperView is the first Chinese commercial Earth observation satellite constellation with high agility and multi-mode imaging capabilities and can acquire multi-point and multi-band mosaic data as well as stereo imaging. The SuperView satellite constellation has a once-a-day revisit rate of any location in the world.
China Siwei is the owner of subsidiary company Space View, located in Beijing, a leading provider of earth observation satellite data and geospatial information services in China. The company's business covers optical and synthetic aperture radar (SAR) satellite imagery, data processing, value-added products, solutions, software, and a GIS platform.
As the operator of the SuperView constellation, Space View manages imaging services and also promotes construction of direct-receiving and virtual stations around the world.
Ultimately, the SuperView constellation will consist of 16 0.5 metre panchromatic and two metre multispectral resolution satellites, four higher-performance optical satellites, four very-high resolution SAR satellites, and a fleet of video and hyperspectral satellites.
Space View is the exclusive distributor of Chinese Earth observation satellite data from the Gaofen-2, Gaofen-1, Ziyuan-3, Huanjing-1A and -1B, as well as some other Chinese satellites. Siwei WorldView Technology (Beijing) Co. Ltd. is a joint venture founded by China Siwei, DigitalGlobe Inc., and Navinfo. It is the main distributor in China for DigitalGlobe's WorldView-1, -2, and -3, GeoEye-1, QuickBird and IKONOS, South Korea's KOMPSAT-2, -3, -3A, and -5; Japan's ALOS and ALOS-2; Spain's Deimos-1 and -2; and Kazakhstan's KazEOSat-1.