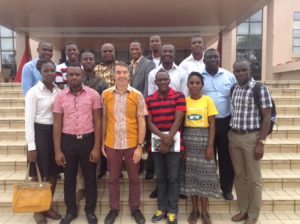 A team including satellite communications innovator Goonhilly Earth Station and a consortium of universities and institutes led by the University of Leeds' School of Physics and Astronomy today announced that they have won a Better Satellite World Award for the Development in Africa with Radio Astronomy (DARA) project.
DARA, a Newton Fund project led by Professor Melvin Hoare of the University of Leeds with Goonhilly as an industry partner, uses radio astronomy to develop high-tech and business skills in eight sub-Saharan African countries: Botswana, Ghana, Kenya, Madagascar, Mauritius, Mozambique, Namibia, and Zambia. Part of the UK's official development assistance, the Newton Fund was launched in 2014 to support the economic and social welfare of partner countries by strengthening their science and innovation capacity.
DARA's partner organisations train local students in radio astronomy – 140 to date. The goal is to share technical and commercial expertise that inspires the students to boost economic growth by setting up their own businesses and passing on their knowledge and skills to the next generation of students.
The hosting of the Square Kilometre Array radio telescope in South Africa played a key part in Professor Hoare's decision to set up DARA. A precursor project, the African VLBI Network, includes the deployment of a network of radio telescopes across the eight countries. The first of these radio telescopes, upcycled from a defunct 32-m telecoms dish, was recently inaugurated in Ghana.
Goonhilly brings proven commercial expertise as well as providing valuable student training. It is also collaborating with Professor Hoare and other UK universities to convert the old 30-m class telecoms dishes into radio telescopes on its own site.
"The benefits of radio astronomy reach beyond the STEM skills that underpin a strong developed economy. DARA aims to instill a research ethos as well as the communication and diagnostic skills that are transferable to many aspects of a developing economy," said Ian Jones, CEO at Goonhilly. "The Better Satellite World recognises the important role DARA is playing, for example transferring radio astronomy skills in computing to areas including healthcare, food security and sustainable agriculture."
From the outset, raising awareness of the commercial opportunities that come from radio astronomy was integral to the programme. One student in Zambia has already gone on to start a consulting firm providing environmental project briefs for large companies using their knowledge of satellite data. Furthermore, the DARA project is also funding students to undergo Masters and Ph.D. studies in the UK.
"Our experienced entrepreneurial partners have helped to open the minds of trainees to the possibilities available to them in the industrial and commercial sectors. With the prestigious Better Satellites World award under our belt we are inspired to continue our hard work with the goal of helping transform the economies of these countries," said Prof. Hoare from the University of Leeds.
"We couldn't help but be impressed by DARA's work in bringing together experts in radio astronomy, satellite and space technology to help grow expertise in these fields in Africa. The project's powerful combination of technology and business acumen is already paying dividends for the students who have undertaken courses. The Better Satellite World award is our way of thanking everyone involved," said Louis Zacharilla, Director of Innovation and Development at SSPI.
About the Better Satellite World Awards
The Better Satellite World Awards, supported by the Society of Satellite Professionals International (SSPI) worldwide, celebrate innovation in the space and satellite sector that helps make the world a more prosperous, healthier, better-educated, more sustainable, and inclusive home for all humankind.
About DARA @dara_project
DARA was established in 2015 by Professor Melvin Hoare with funding from the Newton Fund (from the UK's Science and Technology Facilities Council), which takes advantage of the UK's Overseas Development Assistance budget for scientific collaboration with developing countries. Partners include South African Radio Astronomy Observatory, South African National Space Agency, and the Universities of Hertfordshire, Manchester, Oxford, Bristol and Central Lancashire.
About Goonhilly @Goonhillyorg
Goonhilly is a global communications services hub and satellite station located in Cornwall, UK. It provides a comprehensive range of leading-edge connectivity and operational solutions to the space industry, GEO, MEO, and LEO satellite fleet operators, broadcasters, as well as a wide diversity of enterprises seeking to grow their businesses on earth and in near and deep space. Customers include SES, Intelsat, Eutelsat, and Inmarsat, as well as space agencies, governments, broadcasters and others. Since 2014 the partners in Goonhilly Earth Station Ltd. have been focused on building the company from the ground up and rejuvenating the site. Goonhilly has Enterprise Zone status – the government's flagship programme for technology parks.
About the Newton Fund @NewtonFund
The Newton Fund builds research and innovation partnerships with 17 active partner countries to support their economic development and social welfare, and to develop their research and innovation capacity for long-term sustainable growth. It has a total UK Government investment of £735 million up until 2021, with matched resources from the partner countries.
The Newton Fund is managed by the UK Department for Business, Energy, and Industrial Strategy (BEIS), and delivered through seven UK delivery partners, which includes UK Research and Innovation (comprising the seven research councils and Innovate UK), the UK Academies, the British Council, and the Met Office.