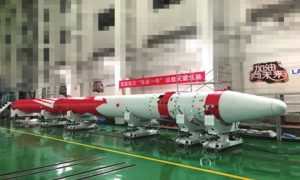 Chinese New Space launch company LandSpace suffered a failure of the third stage of its Zhuque-1 satellite launch vehicle Saturday, 27 October 2018, as it attempted to become the first Chinese private launch company to reach orbit, according to Andrew Jones in Space News.
The three-stage Zhuque-1 launch vehicle, named for the Vermillion Bird from Chinese mythology, lifted off from a mobile launcher at the Jiuquan Satellite Launch Centre in Northwest China, at 4 p.m. local time.
There was no live coverage or reporting of the launch but amateur space enthusiasts tracking Chinese launches were present and posted images and video of the Zhuque-1 launch on Chinese social media platforms such as Sina Weibo.
After first and second stages and fairing separated on the Zhuque-1, an issue with the third stage booster meant that the spacecraft failed to achieve its intended orbit, LandSpace CEO Zhang Changwu, confirmed to media at the launch site following the incident.
The lost satellite was Weila-1 ('Future') which had a mass of 10-30 kilograms for China Central Television (CCTV) and built by Beijing MinoSpace Technology Company, founded in 2017. The satellite was intended to be used by CCTV for a science television series.
A successful Zhuque-1 launch would have made LandSpace the first private Chinese company to launch a payload into Earth orbit, ahead of its national rivals OneSpace, iSpace (not to be confused with its Japanese New Space startup namesake), ExPace, and LinkSpace. Other Chinese New Space launch competitors include S-Motor, JiuZhou YunJian, SpaceTrek, Galaxy Space, Deep Blue Space, and Xinghe Power, but none of these are believed to as advanced in their launcher development as LandSpace, OneSpace, iSpace, LinkSpace, and ExPace.
OneSpace and iSpace are expected to attempt their first orbital launches in early 2019, while LinkSpace, which is developing its NewLine-1 reusable launch vehicle (RLV), is expected to attempt its first orbital launch in 2020. Many of these companies have already conducted suborbital launches over the past several months.
The 27 October Zhuque-1 liftoff was the 30th Chinese launch of 2018 and the first launch failure. The last launch failure occurred in July 2017 when a first-stage engine failure occurred on a Long March 5 launch vehicle.