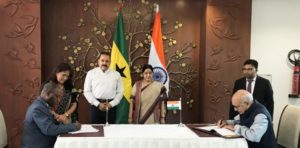 The government of São Tomé and Príncipe signed an agreement with India to create a space centre on the island that is situated off of Africa's Equatorial West coast at a ceremony held on 8 September 2018 during a visit to New Delhi by the São Tomé and Príncipe Minister for Foreign Affairs, according to a report in Africanews.space.
The space centre will be set up by the Indian Space Research Organisation (ISRO) and will enable satellite communications, monitoring and surveillance, as well as the ability to receive remote sensing data, and will extend ISRO's capability to carry out global space operations, as well as allow São Tomé and Príncipe access to the benefits of satellite applications and the participation in space science.
The agreement, a Memorandum of Understanding (MoU), was signed in the presence of India's Foreign Minister, Sushma Swaraj, and India's Minister of State (Independent Charge) at the Department of Space, Dr. Jitendra Singh.
Western Africa is the scene of increasing space activity with satellite programmes in place in Nigeria, Ghana, and Côte d'Ivoire, assisted by outside powers such as China and France.
The terms of the framework agreement will also enable joint space research and development activities between São Tomé and Príncipe and India, cooperation in providing satellite launch services, and the development of ground infrastructure for satellite programmes.
Cooperation with São Tomé and Príncipe will enhance India's ability to carry out the exploration of outer space, as well as remote sensing on the African continent. Diplomatically, the agreement with São Tomé and Príncipe also provides India with an established space presence in Africa as it competes for influence there with its geopolitical rival, China. Beijing has already established a telemetry and tracking station in Namibia, and is actively promoting its satellite capabilities across Africa.
São Tomé and Príncipe is a former Portuguese colony and is also known as the Democratic Republic of São Tomé and Príncipe, is situated in the Gulf of Guinea, off the western equatorial coast of Central Africa with a population of 208,818 according to the 2018 population census.