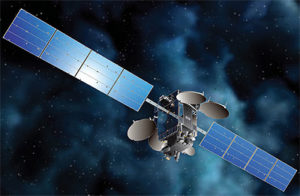 Azercosmos, the national satellite operator of Azerbaijan, and Intelsat, one of the largest commercial satellite communications operators in the world, announced on 26 September 2018 the successful launch of the Azerspace-2/Intelsat-38 communications satellite aboard an Arianespace Ariane-5 launch vehicle from the Guiana Space Centre in Kourou, French Guiana.
The launch occurred at 6:38 pm EDT on 25 September 2018. The Azerspace-2/Intelsat-28 satellite separated from the rocket's upper stage at 7:21 pm EDT on the same day, and signal acquisition has been confirmed.
Azerspace-2 will help Azercosmos meet the growing demand for direct-to-home (DTH) television, government, and network services in Europe, Central and South Asia, the Middle East, and Sub-Saharan Africa. Azerspace-2 will also provide high-power Ku-band connectivity to the African continent from 45 degrees East in geostationary orbit. Azerspace-2 has been designed for smaller terrestrial antennas and will deliver cross-connectivity between East Africa, West Africa, and Central Africa, as well as Europe and Central Asia.
"Azerpsace-2 is Azercosmos' second telecommunications satellite and will further expand the service currently available from Azerspace-1," said Rashad Nabiyev, chairman and chief executive officer of Azercosmos. "The satellite will also enable us to provide more reliable service by serving as back-up for Azerspace-1 located at 46 degrees East, which is only one degree away from Azerspace-2. We are pleased to have collaborated with leaders of the global satellite industry throughout the implementation of this project."
Intelsat-38 is a Ku-band satellite to be placed at the 45 degrees East orbital location also in geostationary orbit. It will replace Intelsat-12 and host Direct-to-Home (DTH) platforms for Central and Eastern Europe as well as the Asia-Pacific region. Intelsat-38 will also provide connectivity for corporate networks and government applications in Africa.
"Today's successful launch is a great example of the power and value derived from collaborating with other satellite operators," said Stephen Spengler, chief executive officer, Intelsat. "Intelsat's partnership with Azercosmos reflects a mutually beneficial collaboration that optimizes capital investments, leverages spectrum rights and facilitates refreshed and expanded capacity for customer growth. Intelsat 38's leading DTH platform will provide media customers with an opportunity to further expand their business as well as deliver enhanced services and differentiated content to viewers across Central and Eastern Europe and the Asia Pacific regions. It will also provide fast, resilient and redundant broadband connectivity to enterprise and government customers looking to expand their services in Africa."
The Azerspace-2/Intelsat-38 satellite is expected to enter into service in the first quarter of 2019.