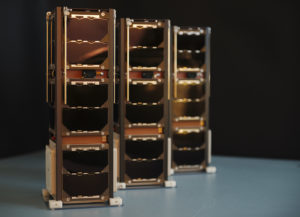 Australian New Space narrowband satellite communications company Sky and Space Global (SAS) has signed a binding Memorandum of Understanding (MoU) with Cendrawasih Teknologi Nusantara (CTN) to provide SAS's nanosatellite connectivity services to CTN's individual and small business customers across Indonesia.
CTN is an Indonesian-based hardware and software communications provider, supplying data connectivity services via satellite for the cellular, banking, plantation, farming, oil and gas, and government sectors. CTN also provides data connectivity to institutions and retail customers throughout Indonesia.
A successful collaboration with CTN will provide SAS with initial access to the fast-growing Indonesian market and provide the ability to leverage and expand its existing connectivity offering across the entire Asia-Pacific region.
Additionally, using the 3 Diamonds nanosatellites, SAS has commenced testing with Japan's leading research company WaveArrays, whose CEO, Mr. Nobuyuki Kaya, is a Professor Emeritus of Kobe University. The tests will assess an innovative S-band ground antenna with no moving parts that can communicate with several satellites simultaneously.
Testing began on 12 August 2018 following approvals from the Japanese Communications Authority with the support of OFCOM, the UK's telecommunications regulator. OFCOM's support is essential in driving the approval process with the relevant authorities.
SAS's relationship with WaveArrays began in 2017 at the International Astronautical Congress (IAC) in Adelaide, Australia. In the company's statement, SAS said that it sees the cooperation between academia and commercial companies as a driving force behind the New Space revolution and that it is proud to assist in efforts towards developing new technologies that promote efficient use of the electromagnetic spectrum.