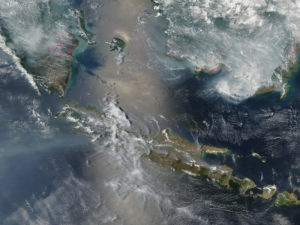 Jean-Yves Le Gall, the president of the French National space agency the Centre national d'etudes spatiales (CNES), visited Jakarta, Indonesia, on 31 August 2018 to meet with his counterparts from the Indonesian space agency, LAPAN, and the Indonesian agency for meteorology, climatology, and geophysics, BMKG, to discuss Indonesia's participation in the CNES-led Space Climate Observatory (SCO) initiative.
The objective of these meetings was to step up the ongoing dialogue between  CNES and  these key partners to advance current areas of cooperation, particularly in the field of climate actions.
Le Gall emphasized that Indonesia can benefit from CNES' industry expertise in the areas of environmental and climate monitoring: including CLS, whose satellite-based location and environmental data collection services, ocean and surface water observation, and land and maritime surveillance, is well-established in the country; and Nexeya, a specialist in nanosatellites that is already working on two Indonesian projects.
CNES and its Indonesian partners also discussed CNES' commitment, and that of numerous international partners, to tackling climate change, including the launch last December of the SCO at the One Planet Summit. The SCO is an international initiative combining satellite and in-situ data with modeling capabilities to better understand and gauge the impacts of climate change globally and locally. This information can be used to inform decisions, as well as mitigation and coping strategies.
In 2017, CNES and LAPAN signed a five-year framework cooperation agreement to give new momentum to space cooperation between Indonesia and France. The two agency heads have hailed accomplishments achieved under this agreement in the field of concurrent engineering, notably the supply by CNES of its Integrated Design Model (IDM) software and associated training.
"The tragedy that hit the island of Lombok this summer showed, with the activation of the International Charter on Space and Major Disasters, just how vital space technologies are," Le Gall commented at the end of his visit. "With its 13,000 islands, the Indonesian archipelago is on the front line of climate change and I look forward to us working together through the Space Climate Observatory, as we shall see at the meeting we will be organizing at the International Astronautical Congress (IAC) in Bremen early in October."