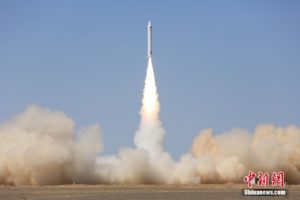 Chinese New Space satellite launch company iSpace successfully launched its SQX-1Z sub-orbital launch vehicle on 5 September 2018 from the Jiuquan Satellite Launch Centre in Northwest China.
iSpace is a Chinese New Space company headquartered in Beijing and established in 2016. The company also operates a research centre located in the ancient Chinese city of Xi'an in Shaanxi Province.
The SQX-1Z rocket lofted three CubeSats for two Chinese companies. According to Andrew Jones of Chinese news outlet GBTimes, two of the CubeSats are the Tianfu Junrong-1 (TFJR-1), a technical verification CubeSat, and the Chengdu Gaoxin-1 (CDGX-1), both built by Chengdu Guoxing Space Technology Co., Ltd., also known as ADA Space.
The third CubeSat is EREBUS-1, built by Beijing ZeroG Technology Co. Ltd., that was parachuted back to Earth.
The SQX-1Z launch vehicle, also known as the Hyperbola-1Z, is nine metres tall with a diameter of one metre. An iSpace press release distributed after the launch claims the launch vehicle can reach an altitude of 175 kilometres and a velocity of 1.6 km per second in a flight lasting more than 450 seconds. A velocity of close to 8 km per second is required to achieve orbit.
In July 2018 iSpace successfully completed a series A funding round led by Matrix Partners China that raised an estimated U.S.$90 million.
According to the iSpace press release, the 5 September 2018 launch successfully validated critical technologies and provides the basis for developing a liquid-fueled reusable launch vehicle as well as – potentially – a space plane.
Andrew Jones of GBTimes also writes that one of iSpace's rival Chinese New Space launch companies, OneSpace, is expected to launch its Chongqing Liangjiang Star launch vehicle, part of that company's family of OS-X sounding sub-orbital rockets, on Friday, 7 September 2018.
Both iSpace and OneSpace have previously announced that they expect to conduct the maiden launches of their orbital launch vehicles, the Hyperbola-1 and OS-M1 satellite launch vehicles respectively, by the end of 2018.