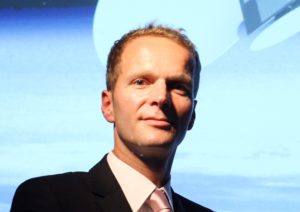 These are interesting times we live in. From the 45th anniversary of the last human mission to the moon with Apollo 17, the American President has now set the legislation to send Americans back to the Moon. Private space is in full swing. Mega-constellations are just around the corner and cubesats are all over the place. In 2017, some remarkable developments have been made in the space sector. SpaceWatch Middle East's Torsten Kriening had the chance to discuss the hot topics of 2017 and a preview of 2018 with Jan Schmidt, Head of Space at Swiss Re Corporate Solutions.
How would you evaluate our current situation in space and what were the main challenges for Swiss Re in 2017? Was 2017 a good year for the space insurance market?

It's a good question and I think it's a twofold answer. Firstly, I think it's worth mentioning that the space insurance market has been extremely lucky in 2017. We usually see at least one launch failure and maybe another in-orbit failure, but there were no big insurance losses so I think that the insurance market in 2017 should be very happy and profitable. But – and there is always a 'but' – unfortunately the business we are writing at the moment is far from being sustainable. The insurance rates today are a fraction of what they used to be ten years ago and the reliability of satellites and launch vehicles has not improved to the same extent. And due to the delay we have in our industry, between writing the business and attachment of risk, we only find out in two or three years' time if the business we write today was sustainable or not. That lag factor is one of our big problems. In most other insurance lines, you find out after 12 months whether what you were writing was sustainable. That is different in space. And then, again, bad news for the industry and also for insurers is the very low number of satellite orders and I specifically mean GEO communications satellites. That is the bread and butter business of insurers. Unfortunately, there were just a fraction of orders of a normal year. 2016 looked bad already but 2017 has been extremely bad. This means that 2 or 3 years down the road there will be less satellites to be launched, less to be insured and overall that is bad news for all of us.
In summary, I would consider 2017 a frustrating year but we were very lucky.
You are a full member of the World Economic Forum's 'Global Future Council on Space Technologies'. Can you tell us about some of the developments in the space council over the last 14 months?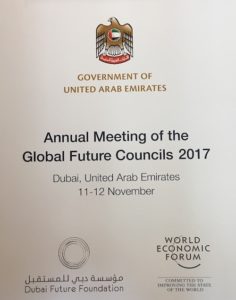 There were quite a few interesting developments. In the beginning of the term, it was mainly just brainstorming and we were looking for a project that is important to the entire industry and everyone who uses space. At the end of the brainstorming we focused on one specific topic and that was space sustainability and we came up with the idea of developing a rating or index of space players. I think that this is an extremely interesting topic and I think the majority of the council members liked it too because of a few main reasons. The first is because we all know that space is getting increasingly polluted with no natural cleaning mechanisms in place. We need to do something eventually, but most players who are making money with space applications at the moment are not investing in any projects that will help to clear it up. It's different than on Earth where you are culpable and responsible for everything you do. In space it's not the case. So we are trying to find a mechanism where the space players have an incentive to act and behave more sustainable and I think a rating or index could be a pretty good instrument and for the responsible operators a good incentive. Eventually, my hope is that people who buy any space service will look at something like this.
At Swiss Re we are a company that believes in sustainability so if we had the choice of 3 or 4 different players I think that we would probably use the one with a good rating and this applies to many other companies too. With the creation of financial incentives for space players to use space in a more sustainable way, my hope is that the next generations can use Earth orbits in the way we do today.
It's difficult to pull all this together as the council only meet physically once a year. The recent meeting in Dubai was very productive and we made a big step forward in defining what we want to do and how we want to do it. I think we are pretty close to being ready to communicate something very soon, unfortunately I cannot disclose more for the time being.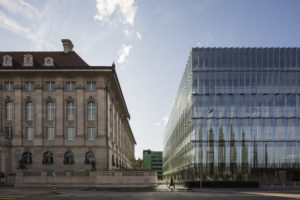 Space Situational Awareness and Space Traffic Management are increasingly gaining awareness. How, from the insurance side, can you drive the market to solutions of clearing space or avoiding debris?
I think you are overestimating the power insurers have, but what we can do is raise awareness and since we talk to everyone and many people rely on buying insurance for their space projects it's good that we promote mitigation efforts where ever we can.
I like to use this example: Insurers could reduce the number of car accidents in winter if we would buy everyone a set of winter tyres but this is not the responsibility of an insurance company. Our responsibility is to raise awareness and to make people aware that if you do this, you get treated better. This is how I see our main contribution to the issues we all want to solve. As part of these efforts, we produced a publication on the subject of space debris and we are in the process of publishing a sequel in 2018 where we discuss the problem of space debris in the context of 'new space'. This is all part of raising awareness.
Are the mega constellations prepared for Space Situational Awareness? The amount of satellites in the coming years will increase current space assets by factor 4 or 5 and the risk will increase. Is it still clean up there or is the situation more urgent?
I think it is still fairly safe to operate satellites in Earth orbits but what concerns me is the uncertainty of future debris-generating events.
You mentioned Space Situational Awareness: As I'm aware for example, some constellations being planned to be deployed at 500km and slowly drift them to 800 or 1000km. Now, if one operator does this, its fine, but if many do it, we have a potential problem. I think people need to put their heads together and coordinate all those things. If that is being done in a successful way you can probably manage to operate a few of those mega constellations in a safe way.
Let's talk about the new launcher market. We have many new players that are entering the market. What is the Swiss Re perspective on these new launch vehicles?
Yes, there are a few very credible new players in the market and a few that are less credible. I think that they all have good ideas but it's still rocket science and it needs to be feasible and I don't think that everyone who is developing rockets at the moment will be successful in it.
Some ventures are benefitting from being backed by billionaires while others are struggling constantly with their finances. Developing, testing and operating a rocket is a very cost-intensive endeavour. I think there are a few very interesting projects out there but for insurers it's going to be a big challenge because the insurance premiums are at an historical low level and as a result of this soft market there is hardly any risk differentiation.
If, in the next 3-4 years all new launch vehicles, which are under development now, have made it from the drawing board to the launch pad, the challenge for insurers is just beginning. Teething problems are common and even for an Ariane 6 or a Falcon Heavy we cannot assume flawless operations right from the start. Launch anomalies are part of the learning curve and that is a very challenging time for insurers.
Private space exploration and space resources are other hot topics in the last few years. How is Swiss Re involved on those areas?
The vast majority of our business comes from the very well established GEO operators with LEO and MEO operators slowly catching up. However, we have had a few good meetings already with very interesting entrepreneurs from the private space exploration and space resources sector. Many of those I consider credible and also being insurable risks.
Downstream applications in particular Earth Observation gained the interest of the general insurance market. Is that also an area of interest for Swiss Re?
Yes, I know from my colleagues that we are buying products like EO services. The new applications with a very quick re-visiting time are very interesting for insurance companies especially when it comes to disaster monitoring and also in settling claims. I think the products that are out there at the moment are not 100% matching insurers' needs, but some of the new developments I see, will suit them even better.
What is your personal view on what we can expect in 2018? Falcon Heavy flying a red Tesla to the Red Planet? Private companies landing on the Moon? What is your prediction for the next big thing?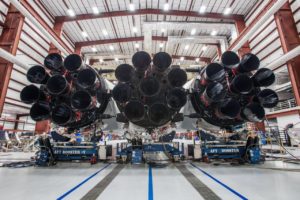 I don't have my crystal ball with me today but yes, I think 2018 is going to be very interesting. The main new launch vehicles will not be having their maiden launches in 2018 so we will have to wait another year or two, except for Falcon Heavy, which will fly in 2018 for the first time, and with no doubt is an important launch vehicle for insurers. I can tell there is interest in flying on Falcon Heavy from our clients and I'm pretty sure that once they have completed their maiden launch we will see more launch contracts being signed.
Taking all your experience about the market and your own experience as an expert in the space segment, what still excites you about space?
It's much more than a job. I've been underwriting space risks for 17 years and many people say: 'What? For 17 years? It must be boring!' But it's not. The interesting and exciting aspects are that every project is different and our client comes from different cultural background. Plus, the applications are so unique and there is no standard insurance policy to sell. It's all about meeting the client, listening to and understanding their needs and trying to structure and tailor an insurance solution for them – that is challenging and exciting every time – again and again and again.
Jan Schmidt is Head of Space at Swiss Re Corporate Solutions. Among his management tasks he is involved in the day to day business of assessing and underwriting Space risks from Swiss Re's headquarters in Zurich. Jan has 5 years engineering experience, having worked as a rocket engineer for MAN Technologie AG in Munich before he changed across to the insurance world and joined Swiss Re as a Space Underwriter in October 2000. Jan is the current chairman of the Space Risk Study Group of the International Union of Aerospace Insurers (IUAI) and is on the Global Future Council on Space Technologies of the World Economic Forum.
SpaceWatch Middle East thanks Jan Schmidt of Swiss Re for the interview.
Original published at: https://spacewatch.global/2017/12/spacewatchme-interviews-jan-schmidt-swissre/