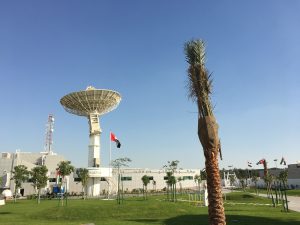 "Innovation is the main feature that distinguishes the UAE space projects, by relying on new methods of project management and developing smart technologies," said Eng. Amer Al Sayegh, KhalifaSat Project Manager, at Mohammed Bin Rashid Space Centre (MBRSC), during his participation in a workshop titled "MBRSC Space Projects" at the 10th edition of the Dubai Government Excellence Programme, held under the patronage of His Highness Sheikh Mohammed bin Rashid Al Maktoum, Vice President and Prime Minister of the UAE and Ruler of Dubai. The Centre is a Knowledge Partner to Dubai Forum 2017 in its 10th edition which is held under the theme, "An Inspirational Government Shapes the Future and Achieves Happiness."
During the workshop, Al Sayegh showcased MBRSC's vision and strategy for the future of the UAE space sector, as well as its projects and programmes either launched by the Centre or delegated to it, under the umbrella of the National Space Programme, which includes the Emirates Mars Mission – Hope mission, National Astronaut Programme, Satellite Manufacturing Development Programme, and Mars 2117 strategy.
Al Sayegh stressed that "innovation in space technology is the cornerstone for its progress and development." He highlighted that, "KhalifaSat has seven new innovations that make it one of the most advanced remote sensing satellite in the world."
Al Sayegh added: "MBRSC has transferred its expertise and knowledge to university students in satellites designing and development in the educational satellite "Nayif-1″, which gave them the full capabilities to include two innovations in its designs."
Al Sayegh emphasized that, "the Centre is insistently working to build an integral space industry in the UAE and encourages local companies to invest in this sector. We often rely on local companies in using some components for manufacturing KhalifaSat. What local companies need to further stimulate their contribution in the UAE space projects, is modifying some specifications to suit space missions' standards," Al Sayegh concluded.
Original published at: https://spacewatch.global/2017/11/uaes-mohammed-bin-rashid-space-centre-participates-10th-edition-dubai-government-excellence-programme/