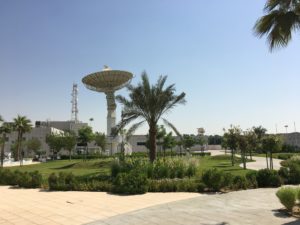 The Mohammed bin Rashid Space Centre (MBRSC) has announced the success of the first locally-built satellite by Emirati engineers, KhalifaSat, in passing the Solar Panel Deployment test, after the completion of several installation and assembly tests for its system and different engineering parts. KhalifaSat's success in the Solar Panel Deployment test confirms the satellite full capability of conducting the entire operations smartly after its launch into space in 2018, and reaching its orbit after separation from the rocket. The test also proves that KhalifaSat's solar panels will not open during the launch phase inside the rocket.
H.E. Yousuf Hamad Al Shaibani, Director General of MBRSC, said: "Achieving this important step in manufacturing KhalifaSat reflects the success of our strategy in localizing satellites manufacturing industry. The country has established world-class infrastructure, which enabled us to manufacture and carry out the necessary tests to the satellite at the Space Technologies Laboratories at the Centre."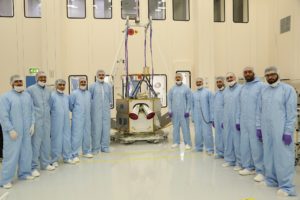 Al Shaibani added: "The capabilities and expertise of KhalifaSat team of Emarati engineers, raises our pride and confidence in their success in this mission, especially that the satellite has specifications and technologies, which make it one of the preeminent satellites of its category in the world. We assertively look forward to successfully accomplish the coming phases, until the satellite is ready to be launched into outer space next year".
"KhalifaSat puts the satellites manufacturing industry in the UAE in an international competitive position," Al Shaibani concluded.
Eng. Amer Al Sayegh, KhalifaSat Project Manager, at MBRSC explained that "KhalifaSat's success in opening the solar panels at this phase in the manufacturing process, shows the efficient overall operations of its engineering, electrical and mechanical aspects".
Al Sayegh mentioned: "KhalifaSat has undergone a number of separate sub-tests for all the mechanical and electronic systems, in addition to, its software. These tests were followed by other tests to ensure the consist operations of all its systems and parts".
"Among the tests that KhalifaSat has successfully passed at MBRSC Space Technologies Laboratories, were the sun sensors test, Earth magnetic field sensors test, antenna movement and orientation to earth test, etc..," Al Sayegh added.
Al Sayegh concluded: "After KhalifaSat's separation from the rocket, it will automatically open the solar panels in direct position to the sun. The control command room at the Centre will expects to communicate with the satellite anytime then, to ensure the operative performance of all its systems in space, and be prepared to smartly capture the first satellite image".
Original published at: https://spacewatch.global/2017/11/mbrsc-announces-khalifasats-success-passing-solar-panel-deployment-test/