Thuraya Telecommunications Company showcased its latest products, solutions, and services at this year's CommunicAsia exhibition and conference in Singapore.
Visitors engaged with Thuraya's delegates to gain insight into the new high-tech portfolio of products on display. The highlight of this year was the recently launched Thuraya Aero and Thuraya WE, which further reaffirms the commitment of Thuraya towards offering innovative and segment targeted user terminals.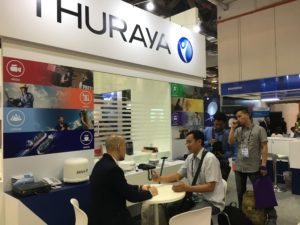 Acting Chief Commercial Officer of Thuraya, Rashid Baba, said: "CommunicAsia is an important platform for Thuraya as it allows us to continue developing our strong presence in Asia. We showcased and demonstrated our latest products, and met with several key partners, customers and industry leaders during this dynamic event to discuss the capabilities and diverse possibilities of our products and services."
Thuraya Aero is an advanced airborne satellite communication service that enables in-flight connectivity for internet access, voice calls, text messaging, HD video streaming and other high-speed data applications on board small- to medium sized aircrafts. Aero is developed in partnership with high-quality manufacturers and delivers real-time communication from the air via Thuraya's extensive and reliable satellite network. A compact and inexpensive service with the fastest IP data speeds on the market for aviation communication, Aero presents a brand new solution that is ideal for ISR, SAR, telemedicine, office-in-the-sky, and military operations.
Thuraya WE is the world's first dual mode satellite and LTE Hotspot that enables Wi-Fi access in any area. WE seamlessly extends the range of terrestrial GSM coverage via Thuraya's satellite network for uninterrupted connectivity. It is a compact and portable device that empowers users to turn their smart devices into satellite phones in order to communicate with loved ones and use data applications wherever they go. When users move outside GSM coverage, they can seamlessly roam into Thuraya's network with a standard SIM from any one of the company's 395 global data roaming partners.
Original published at: https://spacewatch.global/2017/05/uaes-thuraya-showcases-aero-communicasia-2017/