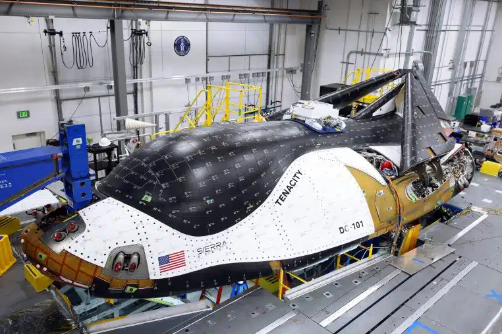 Ibadan, 6 November 2023. – Sierra Space has announced the completion of its first Dream Chaser spaceplane, which will ship to NASA's Neil A. Armstrong Test Facility in Ohio for environmental testing in the coming weeks. Sierra Space was able to develop the spaceplace through a substantial contract from NASA to resupply the International Space Station. The Pureplay commercial space company intends the Dream Chaser to lead the way in democratizing access to space, forging a path towards joint space exploration and international cooperation.
The Dream Chaser spaceplane fleet features design to facilitate the transportation of cargo and, in the future, crew to low-Earth orbit (LEO). This multi-mission platform also offers customization options to cater to both domestic and international customers, further enhancing its role in global space operations. Under NASA's Commercial Resupply Services 2 (CRS-2) contract, Dream Chaser will provide essential cargo delivery, return, and disposal services for the International Space Station.
Speaking on the achievement, Sierra Space CEO, Tom Vice, commented, "Today we have arrived at a profound milestone in both our company's journey and our industry's future – one that has been years in the making and is shaped by audacious dreaming and tenacious doing." The CEO also added, "The Dream Chaser is not just a product; it's a testament to the human spirit, determination and the relentless pursuit of what lies beyond."
The inaugural Dream Chaser spaceplane, "Tenacity", aims to embark on its initial seven cargo missions to and from the International Space Station, carrying essential supplies such as food, water and scientific experiments. Furthermore, the spaceplane is capable of safely returning critical cargo to Earth at fewer than 1.5 g, ensuring the preservation of invaluable payloads.