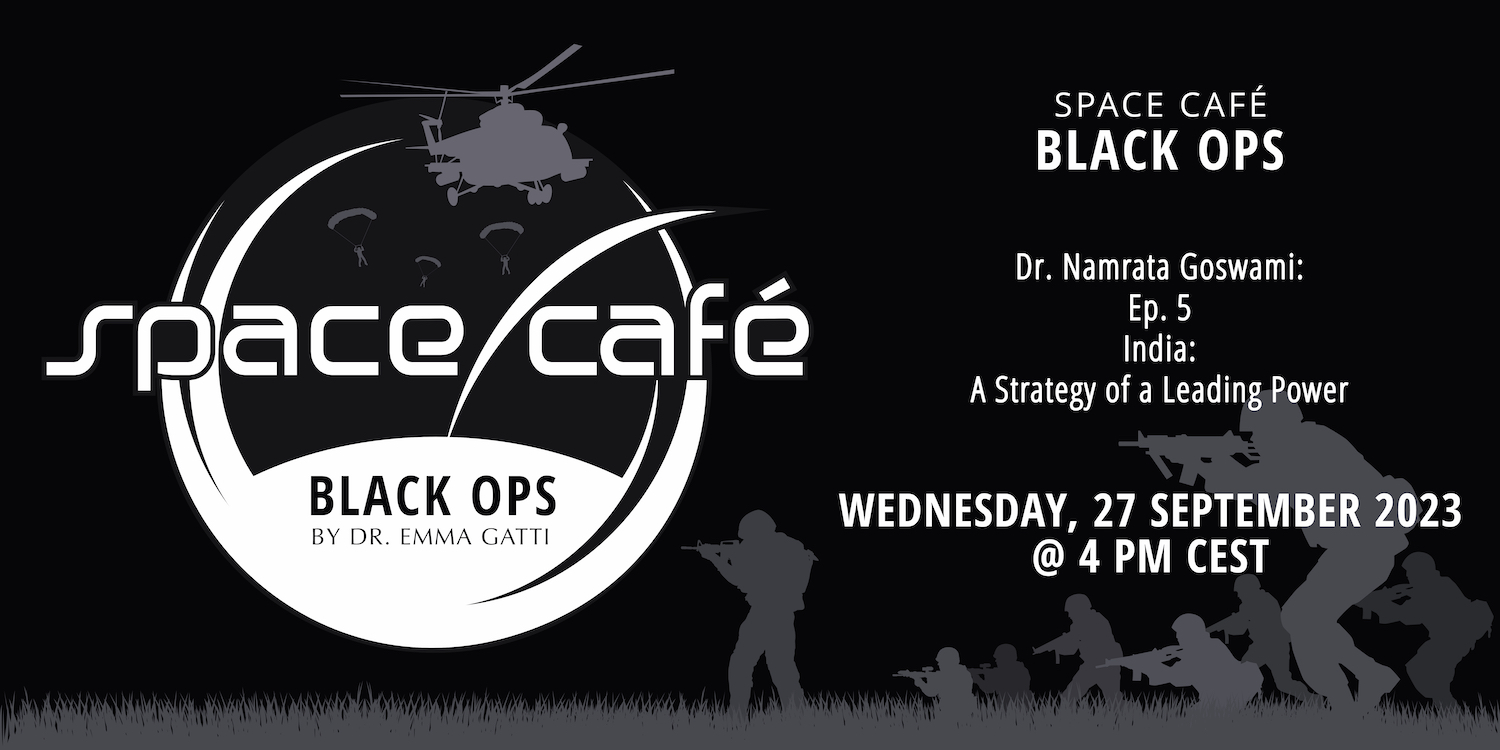 This Space Café Black Ops will feature Dr Namrata Goswami , an independent scholar on space policy and Great Power Politics, in conversation with Dr. Emma Gatti, Editor in Chief of SpaceWatch.Global.
Ep: 5 India: A Strategy of a Leading Power
The fifth episode of Black Ops attempts to explain the steady rising of India as a spacefaring nation. Just got back from the successful landing of Chandryan-3, and a brand new space policy which introduced substantial improvements from the previous ones.
In the upcoming fifth episode of our webinar series, "Black Ops," we delve into a pivotal discussion that promises to be nothing short of compelling. Under the spotlight, we welcome our esteemed guest speaker, Namrata Goswami, an independent scholar teaching and researching space policy, geopolitics and great power competition. Titled "India: A Strategy of a Leading Power," this episode promises an engaging exploration of India's evolving role on the global stage.
At the forefront of our discourse will be India's recent historic achievement—the successful landing of its lunar lander Chandrayaan-3 at the Moon's South Pole. This monumental achievement marks a significant milestone in India's space endeavours and underlines its capabilities in the field.
Moreover, our discussion will gain further depth as we dissect the freshly unveiled Indian space policy, published in July 2023. This policy blueprint sets the trajectory for India's future in space exploration and power dynamics, making this analysis all the timelier and more essential.
This episode of "Black Ops" couldn't be more pertinent. Our conversation will provide invaluable insights into India's strategic vision and its impact on the ever-evolving space economy and geopolitics. As we navigate the complexities of a rapidly changing world, understanding India's role as a leading power in space becomes not just intriguing but absolutely crucial for everyone interested in great power competition.
Don't miss out on this opportunity to gain a deeper understanding of India's ascent in the global space arena.
The audience will have an opportunity to ask questions to Dr. Namrata Goswami.
Register now and be part of a conversation that will shape the future of space exploration and geopolitics.
SpaceWatch.Global is a Europe-based digital magazine and portal for those interested in space and the far-reaching impact of the space sector.
This Space Café "Black Ops by Dr. Emma Gatti" will be conducted in English.