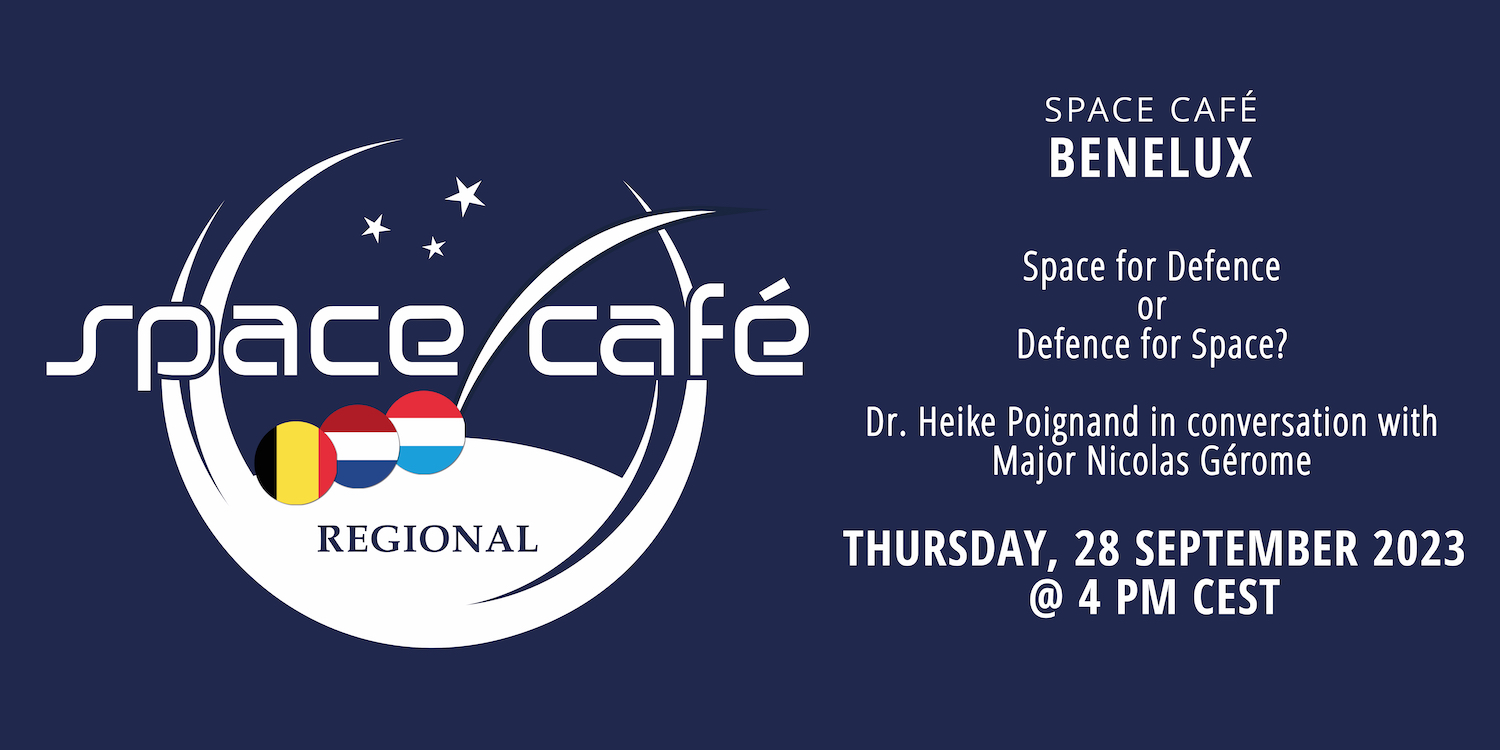 This Space Café BeNeLux will feature Major Nicolas Gérôme, Head of Space Office at Belgian Defence, in conversation with Dr. Heike Poignand, Founder of C43B – Consulting for Business Building, and a friend of SpaceWatch.Global.
Space for Defence or Defence for Space?
Space Café BeNeLux GETS BACK with a new exciting episode taking place on on Thursday 28 September 2023 at 4 pm CEST.
During our Space Café BeNeLux Nicolas and Heike will not only discuss the relevance of Space for Defence but also see in the light of increasing threats if Space and Space assets need Defence to be better protected. In this context they'll also touch topics like the need for secure satcom, Space Situational Awareness, hybrid warfare, potential approaches and co-operations and why Belgium needs to build up Space resilience.
Major Nicolas Gérôme is a Telecom Engineer from the Royal Military Academy in Brussels. He holds several complimentary degrees in Geomatics, Big Data and Space Mission Design.
He started his career for the Belgian Air Force in the Control & Reporting Center in Glons (an Air Defence Unit). Afterwards he was assigned to the Joint Staff as Project and Program Manager in Geospatial, Space, Telecom, Tactical Datalinks, Networking and Remote Sensing domains. He was among other responsible for the multinational HELIOS constellation for Belgium Defence.
For 3 years period in the private sector as a Business Developer for Geospatial Intelligence Software components for NATO and Middle-East at Luciad NV.
Major Gérôme returned to Belgian Defence as SATCOM Network Architect before enrolling for his Senior Staff Course.
Major Gérôme has more than 20 years of experience in Joint and Multinational Project and Program Management in Defence, Space and Aviation.
Since 2018, Major Gérôme is the Head of the Space Office at the Strategy Department and leads the development of Military Space-based capabilities for Belgian Defence.
Major Nicolas Gérôme has recently been appointed to Command the Belgian Defence Geospatial Centre.
Dr. Heike Poignand graduated from the RWTH Aachen and holds an engineering degree in mechanical engineering and a PhD in Laser technology from the Fraunhofer ILT in Aachen, Germany. She brings expertise from 25 years of experience in Sales and Business Development with global market leaders in high-tech domains developing future secure services in the domain of satellite communication and Space Resources Utilization, needing a sound technical understanding to succeed.
She has been growing into the Space Business with Luxemburg since its ESA membership in 2006. Heike served as Member in various institutional boards and recently as founding member and VP of the EURO2MOON association. As "mother of QUARTZ" Heike set up one of the first big European satellite QKD-projects with SES and its partners throughout Europe, the corner stone of a European Quantum Communication Infrastructure. During her time with ispace Europe she acquired specific knowledge regarding customers' need around Space Resources Utilisation and cis-lunar economy and was subject matter expert for lunar comms.
In May 2022 Heike founded her own company C43B – Consulting for Business Building blocks to offer her expertise in those domains bridging Business and Technology. She is successfully working with several companies, start-ups and institutions, is start-up coach and an EIC expert, evaluating EIC Accelerator proposals, offering equity investment and grant funding to innovative deep-tech SMEs/Start-ups.
The audience will have an opportunity to ask questions in dialogue with Major Nicolas Gérôme.
SpaceWatch.Global is a Europe-based digital magazine and portal for those interested in space and the far-reaching impact of the space sector.
This Space Café BeNeLux will be conducted in English.
Reserve your spot today!