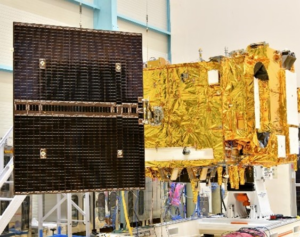 London, 6 September 2023.- The Indian Space Research Organisation's (ISRO) Aditya-L1 solar observatory was successfully launched on the 2nd of September. It will be the first Indian satellite mission to study the Sun.
It has seven instruments which will be used to investigate open questions about our dynamic star. Four instruments will view the Sun directly. The other three will carry out in-situ measurements to explore the nature of the space weather that the Sun generates.
ESA is supporting Aditya-L1 in two ways: providing deep space communication services and assisting with the validation of new flight dynamics software. They are the main provider of ground station services for Aditya-L1. ESA stations will support the mission from beginning to end.
"For the Aditya-L1 mission, we are providing support from all three of our 35-metre deep space antennas in Australia, Spain and Argentina, as well as support from our Kourou station in French Guiana and coordinated support from Goonhilly Earth Station in the UK," says Ramesh Chellathurai, ESA Service Manager and ESA Cross-Support Liaison Officer for ISRO.
ISRO has designed and developed new orbit determination software for Aditya-L1. This will mean they will use tracking data from the spacecraft to calculate its past, present and future location. They requested support from ESA to validate the dynamics software.
From April to December 2022, ESA and ISRO teams worked together to evaluate ISRO's strategy for operating Aditya-L1. The ESA team invented scenarios that the ISRO team could face. Both teams used their orbit determination software to predict how Aditya-L1's orbit would evolve in and compared their results.
Aditya-L1 will be the newest member of the fleet of solar explorers, including ESA's Solar Orbiter, SOHO, NASA's Parker Solar Probe and others.