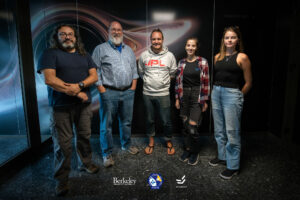 London, 1 September 2023.- EnduroSat will partner with the University of Berkley and NASA in the Solar PolArization and Directivity X-Ray Experiment (PADRE). It is a NASA CubeSat mission designed to study the Sun. 
The X-ray polarimeter and Directivity sensor will be hosted on EnduroSat's 12U satellite scheduled for launch in 2025. It will enable observation of the Sun in hard X-rays (HXRs) from LEO to determine the angular distribution of accelerated electrons from standalone and joint SOLO/STIX observations. 
The mission is a collaboration between the Space Sciences Laboratory – University of California Berkeley (SSL/UCB), Goddard Space Flight Center (GSFC), Southwest Research Institute (SWRI), University of Applied Sciences and Arts Northwestern Switzerland (FHNW), and the Saclay Nuclear Research Centre of the Commissariat à l'énergie atomique (CEA-Saclay).
"We are proud and excited to support visionary exploration missions," said Raycho Raychev, Founder and CEO of EnduroSat. "PADRE will uncover the mysteries of the Sun, providing new insights into previously unavailable solar flare acceleration models. We are enthusiastic about the future."
EnduroSat recently closed a US$10m Series A in May, led by the EU Private Equity CEECAT Capital which is focused on the high-growth markets in the CEE region. Existing investors including Freigeist Capital also joined the round. EnduroSat's Balkan Constellation was recently selected by ESA and the EU for the Copernicus Contributing missions. The constellation will provide the Balkans and the EU with unprecedented revisit time, real-time cloud-based monitoring services, and AI-powered detection. 
The PADRE mission will deepen understanding of solar activity, solar flares, and space weather. One particular challenge of this mission is EnduroSat's satellite will be spinning at a constant rate while taking measurements.