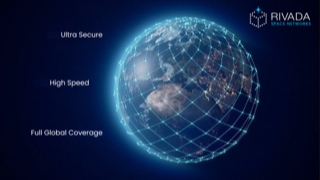 London, 29 September 2023 – Artel LLC, provider of secure network communication services, has been awarded a Commercial Satellite Communications Proliferate Low-Earth orbit (p-LEO) contract from the US Space Force. Artel will partner with Rivada Space Networks to provide the next generation network to support US Government communications. 
Artel is a carrier-agnostic network integrator, allowing it to develop customised solutions for customers. The company is using first generation LEO constellations to deliver secure government communications. 
Rivada's global low-latency point-to-point connectivity network of 600 LEO satellites, the "OuterNET", combines inter-satellite laser links with advanced onboard processing to provide routing and switching capabilities and create an optical mesh network in space. 
"We are delighted to be working with Artel and honored to be one of a limited number of LEO solutions trusted to provide solutions to the USSF," said Declan Ganley, CEO of Rivada Space Networks. "By allowing satellites to go beyond their traditional role of "gap-filler," and unlike other limited LEO systems which bridge the last mile between the satellite and the nearest gateway, Rivada's OuterNET is a fully inter-connected space network which will become the technology of choice for secure data communications. Rivada's OuterNET will solve essential connectivity and security challenges for government communications globally".
Rivada's "OuterNET" aims to create a secure satellite network with pole-to-pole coverage and end-to-end latencies lower than terrestrial fibre over similar long distances. The first satellite launch is set for 2025, with global service starting in 2026.