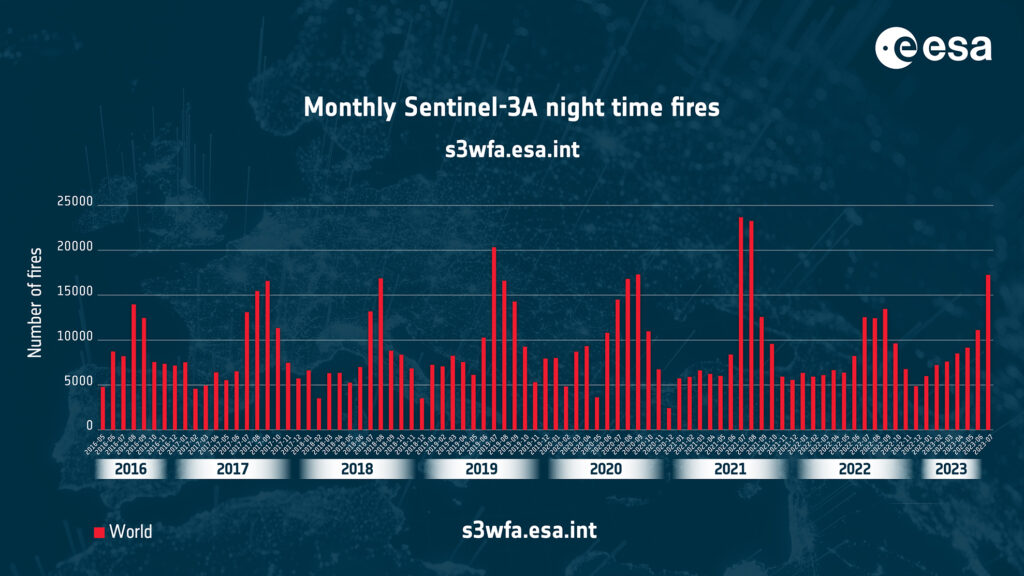 London, 4 August 2023.- As a response to wildfires which have spread across Greece, Italy, Spain, Portugal, Algeria, Tunisia, and Canada an updated version of ESA's World Fire Atlas is now available. It provides a detailed analysis of wildfires across the globe. 
The European Forest Fire Information System (EFFIS) has reported that, as of 29 Jul 2023, more than 234,516 hectares of land across the European Union has been burned this year. The World Fire Atlas offers an insight into the distribution of individual fires taking place at both a national and global scale.  
The dashboard uses night-time data from the Sea and Land Surface Temperature Radiometer (SLSTR) on board the Copernicus Sentinel-3A satellite. The sensor measures thermal infrared radiation to take the temperature of Earth's land surfaces which is used to detect the fires. 
Through the interactive dashboard users can compare the frequency of fires between countries and analyse the evolution of fires taking place over time. The atlas originally opened in 2019, where it supported European civil protection agencies and firefighters. 
"The relaunch of the World Fire Atlas presents a valuable opportunity for authorities, researchers and organisations to enhance their understanding of fire occurrences worldwide," Olivier Arino, Senior Advisor for the Directorate of Earth Observation Programmes, at ESA. "By utilising this comprehensive resource, they can devise more effective strategies for fire prevention and management on a global scale. 
If the atlas cannot pick up all fires because of satellite overpass constraints and cloud coverage, it is statistically representative from one month to the other and from one year to the other. Data from the Copernicus Sentinel-3B satellite will be added in December 2023.