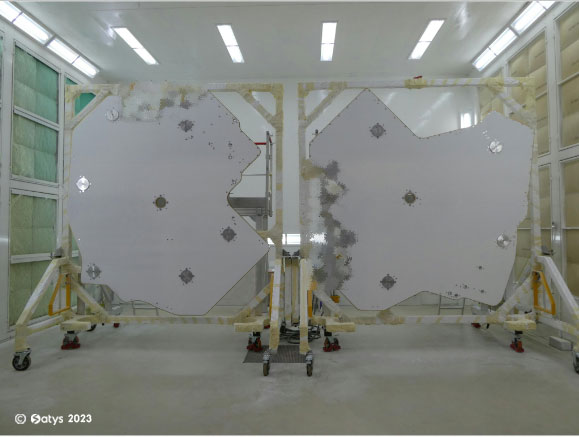 Ibadan, 5 July 2023. Satys Aerospace has announced that it is now extending its activities into the space sector after commissioning a facility dedicated to the painting of satellite parts. This new extension is in partnership with Airbus, which had representatives at the inauguration. As part of the partnership, this site will be responsible for painting the deployable radiators for the OneSat program.
Due to the specific paint requirements for space applications, Satys Aerospace had to qualify the personnel – painters, logisticians, and inspectors – assigned to this unit. Furthermore, the room features an airlock system to prevent any risk of contamination during unpacking and packing of components for painting. Satys invested one million euros in new equipment and worked closely with Airbus for two years to design and build
this new production tool.
"The painting of deployable satellite radiators is subject to particularly demanding specifications," explains Philippe Didier, program manager for this new activity. "The coatings in use have thermo-optical properties linked to infrared emissivity. They must facilitate the absorption of sunlight and the dispersion of heat."
At the inauguration, Gregory Mayeur, Managing Director of Satys Aerospace, also welcomed the new partnership with Airbus: "We are very proud of the successful cooperation between our two teams. Technically, the painting business is very specific, and despite our extensive experience in aeronautics, we have learned a lot from this new space applications market through the high-quality standards it demands. Constantly improving and expanding our technical expertise is in Satys' DNA."