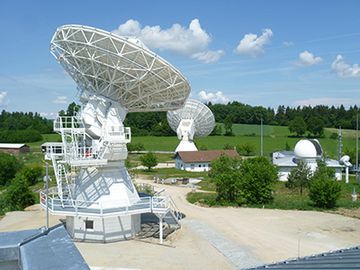 London, 5 July 2023.- KSAT has selected CPI Vertex Antennentechnik GmbH, a subsidiary of Communications and Power Industries, to provide three 20m diameter antenna systems for a purpose-built commercial network for lunar communications. The antennas will be designed from the ground up to meet the requirements of upcoming lunar missions and will be installed in three evenly distributed locations to ensure continuous lunar coverage. 
The first antenna system will be operational by the end of 2025, and the full network will be complete by the end of 2026. KSAT Lunar's 20m network will provide Telemetry, Tracking and Command (TT&C), payload downlink, and ranging services in both X-band and Ka-band.
The antennas are compliant with the requirements set by planned lunar relay satellite constellations, and by NASA for the Lunar Exploration Ground Sites (LEGS). The demanding technical and performance requirements, and the need for uninterrupted lunar coverage have served as guidelines for setting the specifications to CPI Vertex. 
"The KSAT lunar communications network represents the next stage in space communications technology. It is a challenging and visionary program, and CPI Vertex has worked closely with the KSAT to ensure that we can deliver a reliable, advanced technology solution with our full-motion dual-band antenna systems that will help ensure the program's success," said Gerbert Lagerweij, Director Sales & Marketing, of CPI Vertex Antenenntechnik.
The process to select the company began in 2021 where CPI Vertex was best able to provide a solution based on the requirements.