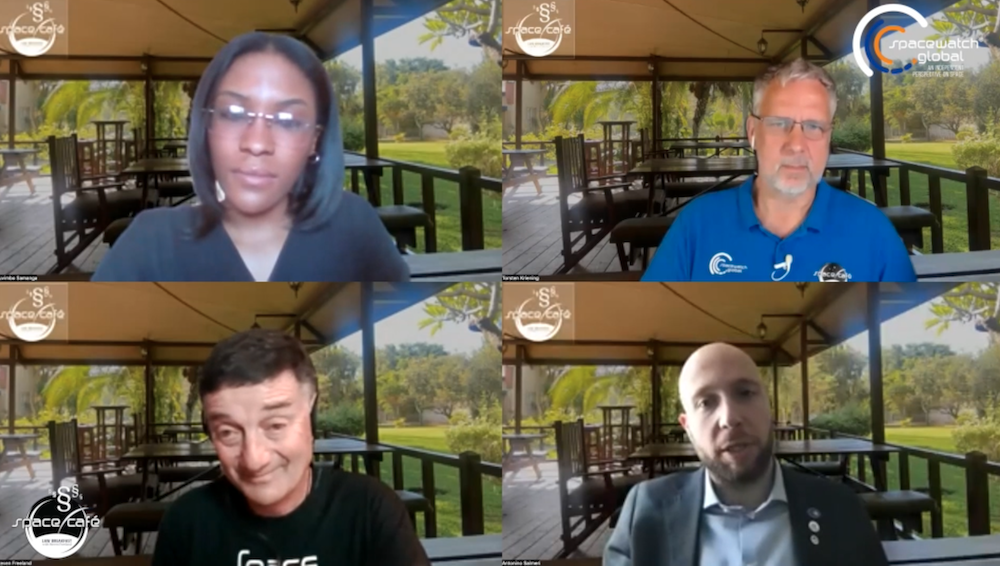 In the latest (13th) "Space Café Law Breakfast with Steven Freeland", host Prof Steven Freeland, Emeritus Professor at Western Sydney University, and Professorial Fellow at Bond University, and Co-Host Torsten Kriening, SpaceWatch.Global's Publisher, welcomed Ruvimbo Samanga and Dr Antonino Salmeri to a fantastic breakfast discussion at a café in Bulawayo, Zimbabwe.
Over breakfast treats (and some coffee), they discussed what Steven referred to as 'big issues for future generations' including:
Why is it important to assess and conduct our current space activities with a view to future generations?
What do we mean by 'future generations' and 'intergenerational equity'? How is this related to the concept of 'sustainability' of space activities?
What are the most important aspects of our future space activities from the perspective of future space leaders?
How should we alter the current 'business as usual' to meet the concerns of intergenerational equity?
Ruvimbo and Antonino, outstanding leaders of the next generation of space law/policy professionals, also provided their 'one word' to describe the wonders of space/space law – a tradition for all guests at the Space Café Law Breakfasts.
We hope that you enjoyed this discussion (see video below) and will already note in your diary to join us for the next Space Café "Law Breakfast with Steven Freeland" on 27 July 2023 (time to be confirmed) with guests Axelle Cartier and Ingo Baumann – it promises to be another great discussion.
In the meantime, please let us know if there is a particular event or issue that you want our expert panels to help to 'demystify'. We are always interested in your views and suggestions.
We really hope you will join us for breakfast in July. See you then!
This 13th Space Café "Law Breakfast with Steven Freeland" was held on 1 June 2023.
SpaceWatch.Global is a Europe-digital magazine and portal for those interested in space and the far-reaching impact of the space sector.
Here is the video: