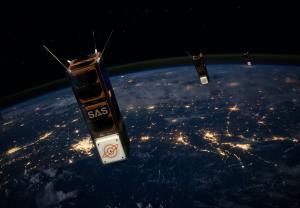 London, 6 April 2023.- Sky and Space Company, a British satellite company with communication nanosatellites and software expertise, in partnership with Wroclaw University of Science and Technology and Poland's Ministry of Economic Development's Space Policy Unit, announced on the 5th of April that they have been awarded a grant from the European Space Agency (ESA) to develop the Enhanced Spread Spectrum Aloha (E-SSA) Modem. The E-SSA aims to revolutionise space-to-ground communications and increase efficiencies for Inter-Satellite Linking. It is designed to be the first-ever modem with the capability to process frames on nanosatellites setting the stage for new applications in nanosatellite constellations and broadening the horizons of the space sector.
"We are thrilled that Sky and Space has been chosen to develop this innovative technology under a program of and funded by the European Space Agency. The E-SSA modem will open new possibilities and transform the way we connect a satellite to the ground and to another satellite," says Mark Gilroy, Sky and Space CEO. "This selection stands as a testament to the trailblazing work Sky and Space has accomplished in both the IoT and nanosatellite arenas. Sky and Space is also proud of its ongoing collaboration with Wroclaw University of Science and Technology. The team's diligent efforts have led to this prestigious recognition, and Sky and Space is honored by the distinction." 
Itamar Zabari, Senior Vice President of Research and Development at Sky and Space, and Professor Pawel Kabacik, Wroclaw University of Science and Technology's esteemed Chair of Acoustic, Multimedia, and Signal Processing will direct the collaboration between Sky and Space and Wroclaw University of Science and Technology in developing this ground-breaking technology. Professor Kabacik also leads the R&D Group for Onboard Telecommunication Electronics for Spacecraft & Transportation Means. This strategic alliance unites the expertise of prominent industry and academic professionals, ensuring an innovative and well-executed project that is poised for success. 
As part of the approval, ESA will provide Sky and Space Company with funding of €300,000 and the Intellectual Property ownership of the project's results.