By Veronica La Regina

Microgravity enables a better life on Earth – The case of protein crystallization from a TP of the SSP 2022 edition in Portugal
A 3Is (international-intercultural-interdisciplinary) team of 22 participants of the SSP2022 in Portugal has intensively brainstormed this summer to identify the business potential of doing research in space-based microgravity conditions.
This activity aimed to perform a team project as a reply to the challenge of finding the next big advances enabled by microgravity research. This Team Project brought together an intensive 3Is effort and propose a pathfinder experiment that could fly in LEO on a near-term platform enabled by the cooperation among three supportive partners, e. g. the Portuguese Space Agency Portugal Space and two private commercial companies, The Exploration Company and Nanoracks Space Outpost Europe.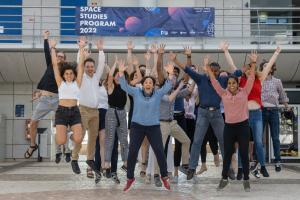 The activities have been led by Veronica La Regina as Chair and supported by Joan Alabart (Portuguese Space Agency) as co-chair and Justin Karl (NASA) as Associate Chair.
The team was exposed to a series of inspirational talks from experts from all over the World and additional brainstorming sessions to facilitate the selection of the idea. After several consultations and reiterations with the chairs, the team chose a valuable topic, in-orbit protein crystallization, for the advancement of humankind on Earth and in Space.
The space environment with microgravity conditions turns out to be a strong enabler of protein crystals that can be used to prevent, cure, and treat several diseases and to endorse life conditions for further space exploration missions.
During the TP participants experienced social activities thought to develop soft skills, such as building of alliance with team members, endorsing each other reliability, catching timely an opportunity, enjoying others' entertainment, and posturing in front of a camera.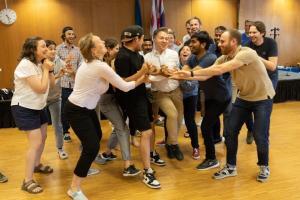 The TP starts with a valid problem statement that sounds like this "Constraints in the development of protein-based medications cause patients to suffer from a high burden of treatment, resulting in a reduced quality of life. This negatively impacts the public health system, resource efficiency, and social participation. The lack of affordable and recurrent access to space is a proven restriction in drug development, hindering progress for public and private health stakeholders alike". The solution feeds the vision of creating a viable pathway into space for mass drug production. This, as the team states in the deliverable, can significantly improve the quality of life for patients, creating a ripple effect of benefi­ts for communities and economies globally.
The main takeaway of this experience is the discovery that Space is closer to everyone than we think. The benefit of continuously accessing Space for manufacturing solutions for the big terrestrial challenges has been greatly "understood", identified, and developed by the team in proposing the business case of ProKryos aiming to develop an in-orbit pharmaceutical factory for the benefit of humankind. Space is no longer a privilege for a few fortunate people; Space is getting more and more accessible to everyone under no-prohibitive conditions.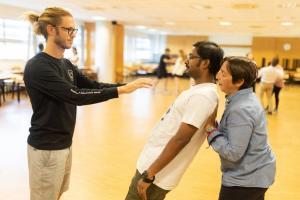 According to the chair, Veronica La Regina, the current times are mature enough to talk about smart orbit as an extension of terrestrial environments where human beings can work, remotely operate experiments from Earth and fabricate new items (drugs, spheroids, 3D-cells, crystals, etc.) at a much better condition achievable on Earth. No doubt that ProKryos will echo from the stage of the TP presentation at the Grande auditorium in Oeiras, Portugal to the rest of the world via streaming and beyond. ProKryos may turn out to be a stimulator of a future customer base with the support of all participants and chairs as strong believers advocating the benefits of microgravity.
Want to hear the experience of a SSP22 participant? Here you can listen to our interview with Dídac Cabús Seguí on the day of the final team project presentations.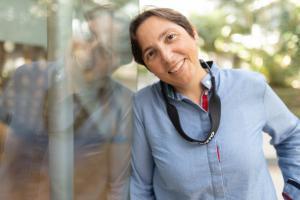 Veronica loves when knowledge and business get together to pursue innovation for the benefit of humankind.
Veronica La Regina is a strong believer and supporter of the ISU activities. Professionally she is currently the CEO of Nanoracks Space Outpost Europe srl (Nanoracks Europe). Before joining Nanoracks Europe she was Strategy and Business Development officer at RHEA and was appointed at the European Space Agency (ESA) – ESTEC as a Business Innovation Expert of the Commercial Partnerships' initiative for space exploration in the Directorate of Human Space Flight and Robotic Exploration. Previously worked for the ESA – Technology Transfer Programme Office, Department of International Relations of the Italian Space Agency (ASI). Even before worked at the European Space Policy Institute in Vienna, at the International Space University in Strasbourg, Telespazio SpA in Rome, Wave Energy Centre in Lisbon and as a researcher at different universities in Europe, Japan and in the USA. She has been a climate-KIC coach since 2012. Veronica holds a master's degree in system engineering from Electronic Engineering Department, a Master's Degree in Space Policy, and a full Graduation in Law. She also pursued PhD Studies in Economics Sciences at Milano University, Toulouse University and Boston College. In 2017 she has been awarded as Leader by the Italian Branch of the Business Professional Women Network. In 2021 she has been received the Masaniello 2021 Award as a talent over the Globe. In 2022 she has been elected board member of the Association of Italian companies for Applications, Technologies and ITC for Space purposes (ASAS Spazio).