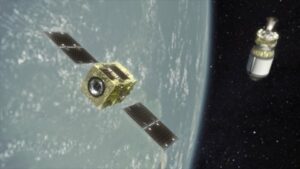 Edinburgh / Tokyo, 9 September 2022. – Satellite servicing and long-term orbital sustainability provider Astroscale Japan, has been selected as one of the contracting parties for the Front-Loading Technology Study in Phase II of the Japan Aerospace Exploration Agency's (JAXA) Commercial Debris Removal Demonstration (CRD2), the company said.
CRD2 is one of the world's first large-scale debris-removal technology demonstrations. Phase II will ground test key hardware and software technologies. These comprise close proximity operations as well as capture mechanism design. Verification of the design concepts and performance will be carried out with the help of JAXA's advanced Simulation Apparatus for Target Capture Dynamics.
The study will also require satellite design detail trades and analysis, along with mission operation concepts, Astroscale stated. The results will provide a reference for the technical feasibility of Phase II.
Astroscale Japan was previously contracted for Phase I of CRD2. During this, the ADRAS-J (Active Debris Removal by Astroscale-Japan) satellite will rendezvous with a Japanese rocket upper stage to demonstrate proximity operations and obtain images.