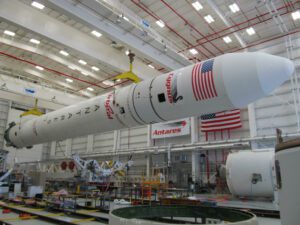 Edinburgh / Chandler, 9 August 2022. – Northrop Grumman and end-to-end space transportation company Firefly Aerospace, are collaborating to provide an American-built first-stage upgrade for the Antares rocket as well as a new medium launch vehicle to serve commercial, civil and national security space launch markets, Northrop Grumman said.
The duo will first develop Antares 330, a fully domestic version of Northrop's Antares rocket, to serve Cygnus space station commercial resupply missions. This will be followed by the advancement of a new medium class launch vehicle. Northrop said it has been working on a combined strategy and technical development plan with Firefly to meet current and future launch requirements.
Firefly's propulsion technology uses the same propellants as the current Antares rocket. Antares 330 is planned to utilize seven Miranda engines by Firefly while also leveraging its composites technology for the first stage. Northrop will provide the avionics and software, upper-stage structures and the Castor 30XL motor. The company will also handle vehicle integration and launch pad operations. 
The new stage will increase the rocket's mass to orbit capability, enabling Northrop to continue to support current and future missions.