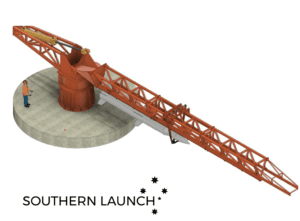 Edinburgh, 9 August 2022. – Two South Australian companies, engineering and fabrication company Ferretti International, and family-owned manufacturing company Hydroil, will start manufacturing for the space industry after winning the contract to build and supply a mobile launch rail for Australian spaceport and space mission provider Southern Launch, the company said.
Southern Launch has been granted approximately AU $1 million as a part of the Australian Space Agency's Moon to Mars Grant program. The funding will be used for the building of the mobile launch rail. The project will contribute to over 10 local, skilled, full-time manufacturing jobs.
Ferretti is a pipe fabrication and structural steel company with over 100 employees, entering the space market with the construction of the mobile launch rail. Hydroil, with over 50 employees, has almost 60 years of experience in providing hydraulic solutions. As its first space project, Hydroil will design and provide a full hydraulic system to position vehicles ready for launch.
Southern Launch said it will be awarding further contracts to local companies for the transport, assembly and other components of the project.