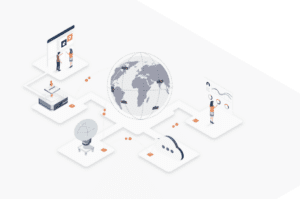 Edinburgh / Fino Mornasco, 10 August 2022. – Space infrastructure company D-Orbit, signed a three-year, multi-mission agreement with global nanosatellite IoT network operator, Astrocast, to launch and deploy 20 satellites, which are part of Astrocast's growing constellation for the Internet of Things (IoT), D-Orbit said.
According to the agreement, D-Orbit will launch Astrocast's satellites aboard its orbital transfer vehicle, the ION Satellite Carrier. The first launch, is scheduled for November this year, aboard SpaceX's Falcon 9 rocket. The mission will deploy four 3U satellites on a 500-600-kilometer Sun synchronous orbit. Further six 6U satellites and then another ten 6U satellites will be deployed in 2023 and 2024 respectively.
Astrocast's existing IoT network comprises low latency nanosatellites. The new launches will ensure that Astrocast can provide a robust, reliable and resilient service. D-Orbit's ION Satellite Carrier is able to transport satellites in orbit and release them individually into distinct orbital slots. It can also accommodate multiple third-party payloads. 
Earlier this year, D-Orbit has entered into a business combination agreement with Breeze Holdings Acquisition, a publicly traded special purpose acquisition company. According to the agreement, D-Orbit and a newly formed joint stock company will become the publicly traded parent company of the duo.