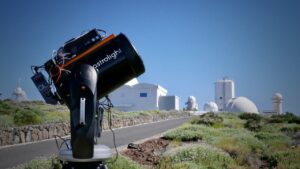 Edinburgh / Vilnius, 11 August 2022. – Wireless laser communication systems developer, Astrolight, successfully performed a satellite-to-ground laser communication test using a portable OGS-1 optical ground station, the company said.
Working with the European Space Agency (ESA), Astrolight established the laser communication link near ESA's Izaña-1 (IZN-1) ground station, located at Teide Observatory. The data source was an experimental laser transmitter system, Osiris, aboard the low Earth orbit (LEO) Flying Laptop satellite.
The aim of the test campaign was to demonstrate a reliable, high-bit-rate ad-hoc LEO-to-ground laser communication capability. The complete system, including the telescope, optical head receiver, tracking computer, detector and modem, was reassembled and ready for operation in two hours after transport.
OGS-1 was operating from a car battery. Nonetheless, a signal transmitted from the Flying Laptop satellite was successfully coupled into the 105 μm fibre detector. The satellite was travelling at 7.8 km/s, about 2000 km away from the detector, at an altitude of 600 km. During the test, the company also performed special calibration procedures and tracked large pieces of space debris and spacecraft.
The week-long test verified the portability and ruggedness of Astrolight's portable optical ground station design.