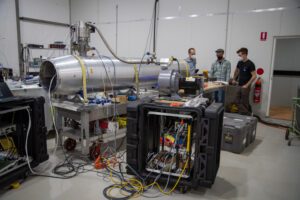 Edinburgh, 28 June 2022. –  Equatorial Launch Australia (ELA), the developer, owner and operator of the Arnhem Space Centre (ASC), successfully completed Australia's first commercial space launch on the Gove Peninsula in Australia's Northern Territory, in cooperation with NASA, ELA reported.
The BBIX rocket launch was NASA's first launch from a fully commercial spaceport and the first of three rocket launches. The spacecraft was carrying an atmospheric observation platform to examine Alpha Centauri A and B stars system. The aim of the mission is to conduct astrophysics studies that can only be done from the Southern Hemisphere.
ASC is the only commercially owned and operated multi-user equatorial launch site, located 12 degrees south of the Equator. Two more launches are planned for early and mid July this year.