By Viktoria Urban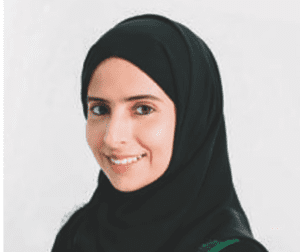 Our Space Café WebTalk "33 minutes with Amna Al Owais – Courts of Space: A Conversation about Dispute Resolution" took place on Tuesday, 17th May.
Al Owais is currently the Chief Registrar of the DIFC Courts and oversees operations and quality management, supervising the Courts' Judicial Officers and Registry personnel, as well as the delivery of a comprehensive suite of court public services. 
She also spearheads special projects across DIFC Courts operations, particularly in the field of technology and innovation, harnessing digital transformation for core courts services, including a major partnership project across blockchain with Smart Dubai and a court tech R&D initiative with the Dubai Future Foundation.
In addition to her role as Chief Registrar of the DIFC Courts, Al Owais is also Registrar of the Special Tribunal Related to Dubai World, Chairwoman of the DIFC Courts' Users' Committee, Chairwoman of the DIFC Courts' In-House Counsel Committee, and a member of the Consulting Council for the University of Sharjah College of Law. In 2014, she was appointed to the Advisory Board of the International Bar Association's Access to Justice and Legal Aid Committee.
Al Owais starts by explaining that the Dubai International Financial Centre (DIFC) Courts is a special court in Dubai, the UAE (United Arab Emirates). She oversees special projects, the operations, and the registry within the DIFC Courts. The DIFC Courts are relatively small with 33 employees, it is English speaking and was created based on the common law system. It operates a friendly mechanism, a neutral and attractive jurisdiction for any two parties or two contractors choosing the DIFC Courts in their contract's dispute resolution clause. They can choose any law that they wish to have their contract interpreted on. As long as it's a commercial transaction, they can choose the DIFC Courts, whether within the UAE or abroad. The DIFCCourts is a pure court system that has judges and mechanisms such as litigation, mediation, and negotiation, among others.
"The UAE is a leader in development, evolution and us as a court, we follow that trend," she says.
The DIFC Courts are therefore at the forefront of other jurisdictions and commercial courts and focus on providing the best services. The court's work strategies revolve around four main pillars: Judicial Excellence with more than 300 years of experience with service tech centers, Connectivity, Innovation and Service Excellence. The DIFC Courts is one of the first courts in the world to have a mystery shopper. The DIFC Courts focus on cooperating with other judicial systems, and also the private and public sectors.
Al Owais says that the UAE has played an important role in the space industry in the last seven years including getting images of Mars with the help of their space probe and sending an astronaut to the ISS. This inspired the Courts to tap into the space market. As a first step, they established a think tank, a working group consisting of 16 international members coming from different backgrounds like academia, commercial institutes, and space agencies.
As a second step, the DIFC Courts started working on a Space Disputes Guide to show new stakeholders how Courts of Space can play a role in attracting people to its neutral jurisdiction. The first edition of the Guide was published in 2021, focusing on the different scenarios of disputes that might happen with regard to space and how they would be handled by the DIFC Courts. The DIFC Courts is currently working on the second edition of the Guide which will answer questions such as "What happens on Mars if there is an investment there?" "What happens if people are having a holiday on Mars and they end up having an issue with aliens?".
"We can say that all the classical sorts of disputes that can happen on Earth can also actually happen in space, especially as traffic increases more and more," Al Owais claims.
She says that disputes such as liability damages, insurance-related claims, issues regarding the sale of goods, space exploration, space mining, and many more might end up within Courts of Space in the future.
To listen to the Space Café WebTalk's insights, you can watch the full program here:
Viktoria Urban, contributing Editor at SpaceWatch.Global: After graduating as a Journalist from Edinburgh Napier University, I am now doing an Astronomy and Planetary Science degree at The Open University (Scotland) which has enhanced my already existing love and enthusiasm for space. I am also a member of and a volunteer for several societies both in Hungary and in the UK and write online content on space for multiple companies as well. I hope my science communication will encourage many to find a job in the space sector, whatever their background and highlight important issues to ensure a sustainable space environment for future generations.