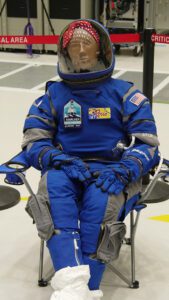 Edinburgh / Cape Canaveral, 20 May 2022. – The Boeing CST-100 Starliner spacecraft reached the intended orbit and continues to perform nominally on its way to the International Space Station (ISS) after a successful launch atop United Launch Alliance's Atlas V rocket. The spacecraft is expected to dock with the space station's Boeing-built module after a 24-hour journey.
The reusable Starliner spacecraft has no crew onboard, however, it is carrying a dummy named "Rosie the Rocketeer". Rosie represents people who have shown grit and determination in human spaceflight history, Boeing said.
Starliner is carrying more than 362 kilograms of cargo including food and crew preference items for current crew members. The spacecraft also has a commemorative U.S. flag onboard to be returned to Earth during Starliner's Crew Flight Test.
Meanwhile, Boeing is preparing another previously flown spacecraft to carry astronauts to and from the ISS as part of NASA's Commercial Crew Program.